​Now do it for Israeli kid! Calls on Lionel Messi to balance his support of Palestine children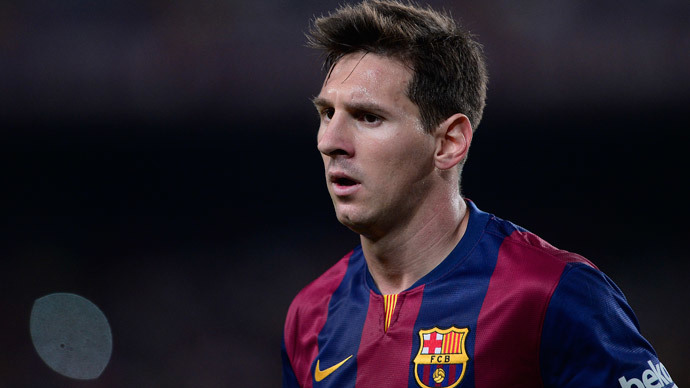 Netizens are trying to get soccer ace Lionel Messi to honor a four year-old boy, who was killed by a missile fired by Hamas. The child idolized the Barcelona star. Earlier Messi had spoken out about the plight of Palestinian children.
Daniel Tregerman became the first Israeli child to die in the conflict on Friday in Nahal Oz. The four year-old was a big fan of the Barcelona forward and there was a picture in the Israeli papers of him wearing Messi's No. 10 Argentina football shirt.
Messi had previously expressed his sympathy for the plight of Palestinian children, writing on his Facebook page on August 7.
"Children did not create this conflict, but they are paying the ultimate price. This cycle of senseless violence must stop. We must reflect on the consequences of military conflicts and children must be protected," he wrote.
Daniel Tregerman, the 4yr old #Israeli boy who died from #Hamas rocket today, was big fan of Leo #Messi. Gr8 if @FCBarcelona cud honor him?

— Arsen Ostrovsky (@Ostrov_A) August 22, 2014
Now Israelis have taken to social media with calls to the Argentinian forward, who played for his country in this year's World Cup final in Brazil against Germany, to support the plight of Tregerman, killed in a mortar attack on Friday.
"Take a look at that boy, Daniel Tregerman, wearing the national jersey of the best player in the world," wrote Tel Aviv resident Liran Cohen on his Facebook page on Friday.
By LiranCohen Hey #LeoMessi, Take a look at that boy, Daniel Tregerman, wearing the national jersey of the best p... pic.twitter.com/YCAMxEKwHf

— FC Barcelona (@BarcelonaFC_Pic) August 23, 2014
"As you can see, you were Daniel's hero. He was killed today, by a mortar which was fired by Hamas, the terror organization your team's #1 sponsors is sponsoring. Is this what you stand for?" he added.

His message referred to the fact that Qatar Airways sponsor Barcelona Football Club. The airline is owed by the Qatari government, who backed Hamas when the Gaza conflict erupted on July 8.
Messi, who is also a UNICEF Goodwill Ambassador, has yet to respond to the messages, or whether he will be supporting Daniel Tregerman's memory.