89 Palestine families wiped out by Israel's Gaza campaign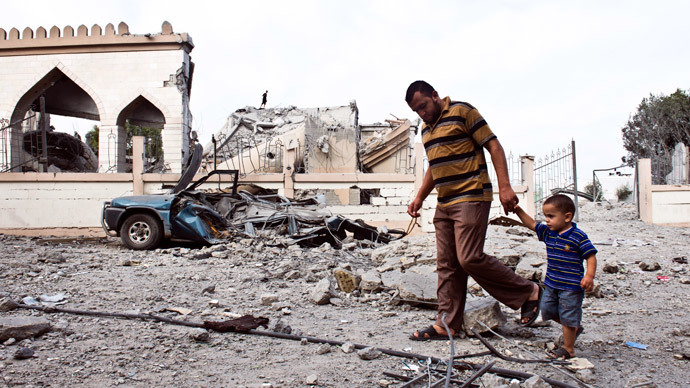 At least 89 entire families have been killed in Gaza since Israel started its military campaign, Palestinian health officials said. The Judeh family, a woman and her four children, died after an airstrike hit their house reportedly without warning.
The incident happened in Tel Azatar, in the northern part of the Gaza strip and the family of five was killed instantly, after the Israeli Defense Forces launched their attack, the Israeli newspaper Haaretz reports. Locals said no warnings were given that airstrikes were imminent.
Prime Minister Benjamin Netanyahu warned Palestinians on Sunday they should leave any building where militants are operating, to avoid potential death. Israel has targeted civilian buildings such as schools and hospitals, as it believes militants are using them to launch missile attacks.
"I call on the inhabitants of Gaza to evacuate immediately from every site from which Hamas is carrying out terrorist activity. Every one of these places is a target for us," Netanyahu said in public remarks at a cabinet meeting.
Israel says it found a Hamas training manual supporting its claims that the Palestinian group are using civilians as cover. The army said it found the document in the northern Gaza town of Beit Hanoun at the end of July, when troops were operating inside the enclave.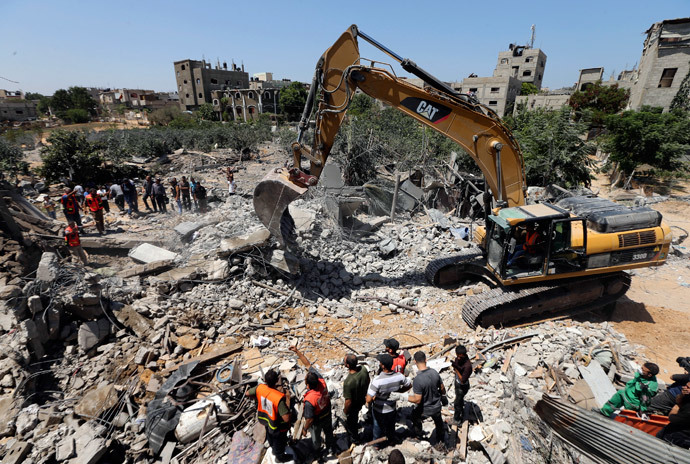 "The process of hiding ammunition inside buildings is intended for ambushes in residential areas and to move the campaign from open areas into built up and closed areas," the document, written in Arabic, stated.
"Residents of the area [are] used to bring in the equipment," it continues, adding: "For jihad fighters, it is easy to operate inside buildings and take advantage of this to avoid (Israeli) spy planes and attack drones."
Israel only released one page of the 102 page manual, with Hamas responding by saying it was a fake.
A spokesman for the group, Sami Abu Zuhri, said: "This is a fabricated paper and neither Hamas nor Qassam has anything to do with it." He added: "Israel circulating this is aimed at justifying the mass killings of Palestinian civilians and massacres committed by the occupation army."
On Saturday, Israel flattened a 13-story apartment block, which they said was being used by Hamas as a control center. There were no fatalities, and a non-explosive rocket was fired at the building to warn residents to evacuate as a strike was imminent. This is not the first time that Israel has targeted a high-rise building. A seven-story block was targeted in the southern town of Rafah and completely destroyed.
Haaretz reports that Palestinian websites have been displaying photos of damaged residential and commercial buildings on its pages. They hint that they believe Israel has altered its policy and is now intent on causing as much damage as possible to buildings it sees as potential targets.
Monday marks the 50th day since Israel started its campaign in Gaza on July 8 and the death toll has already reached 2,120 people, of which 577 are children, according to the Palestinian Health Ministry.