'Super-hero': Kim Dotcom's Internet Mana party campaign kicks off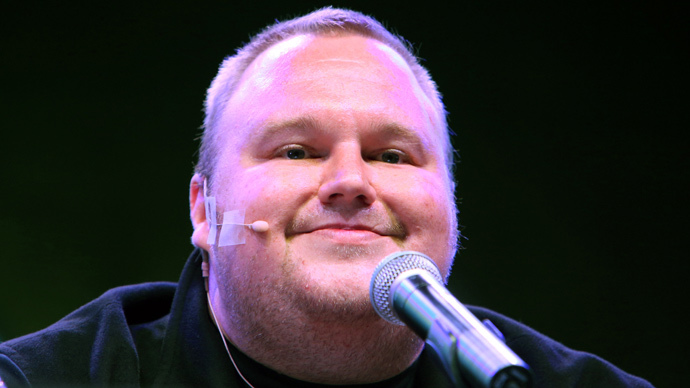 The Internet Mana campaign has kicked off in New Zealand, with the new political party founded by the Megaupload owner promising 100,000 new jobs, free higher education, and 100 percent renewable energy by 2015.
Kim Dotcom was named the nation's "newest super hero" and he expressed high hopes for the party. "I can tell you right now we will get over 5 percent in this election," he said, as quoted by the New Zealand Herald.
New Zealand should get rid of close ties with the US, according to Dotcom.
"We're going to take this country forward and take this country back from the Americans," he said also addressing the country's premier John Key: "We are going to stop your national disaster. [...]There is no rock star economy in New Zealand."
Live from the #InternetMANA campaign launch. On the road to 7.8% and a change of Government. pic.twitter.com/UQVqfh33Nl

— Kim Dotcom (@KimDotcom) August 24, 2014
During the meeting, the party's policies were announced.
If elected, Internet Mana pledges to spend $1.1 billon per year over the next five years to set up short-term jobs for young people, young single parents, students, and the long-term unemployed. This would be achieved via community projects, such as school food programs, waste management, and recycling initiatives, the One News media outlet reported.
' ♕ KEEP CALM AND VOTE I N T E R N E T MANA ✔ '

— Kim Dotcom (@KimDotcom) August 23, 2014
"There is a need to act rapidly and on a large scale to provide meaningful work in communities and to develop a digital and technology savvy workforce on which our economic future will depend. Internet MANA is promising an explosion of creativity and entrepreneurship at all levels," the party's press release stated.
"We will resource job-rich, community economic development initiatives, short term job creation and a significant plan for the development of a world leading digital industry workforce," it also read.
A digital workforce is also expected to be created, with 50,000 permanent jobs, and a budget of $400 million a year.
Internet Mana also plans to cancel students' loans debts.
#Hoverboards, Hone and a @KimDotcom crowd shot. We've launched our campaign - and you've #MetTheFuture :D pic.twitter.com/YV6SfBmZpY

— Internet Party (@InternetPartyNZ) August 24, 2014
Dotcom described Laila Harre, who heads the party, as "an amazing leader." Harre, in her turn, praised the "humanity, compassion and capacity for sheer hard work" of Hone Harawira and Kim Dotcom, the founders of the party.
"Today is a celebration of the possible," she said, as cited by the New Zealand Herald.
Gave a speech today & said I was a hacker over "20 years ago" Don't know why but the media thought I said "20 minutes ago" :-)

— Kim Dotcom (@KimDotcom) August 24, 2014
However, the meeting ended in uproar when the subject of hacking was mentioned.
Dotcom made reference to hacking in his speech, saying he had hacked the"German credit rating system," and journalists wanted to ask him if it was linked with Dirty Politics, a book based on the letters to and from blogger Cameron Slater, containing communications with New Zealand's premier and the country's ministries.
Afterwards, Dotcom's press secretary Pam Corkery reacted angrily, using strong language against journalists, saying:
"He doesn't want to. He said three times, 'I don't want to give you an interview.' He's not a candidate. He doesn't owe you anything."
You can share this story on social media: