​Megastudios seek freeze of Dotcom's assets as he offers $5mln bounty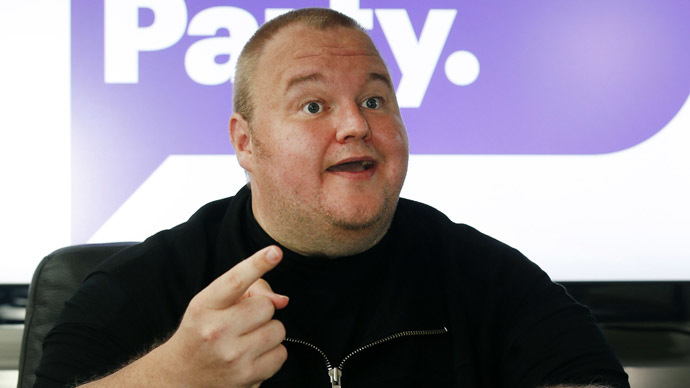 Music and movie giants seeking damages from Kim Dotcom want his assets frozen, as the entrepreneur is facing extradition to the US over copyright infringement. In response, the founder of the Megaupload website is offering a bounty to whistleblowers.
Lawyers representing four music industry giants and six Hollywood studios appeared before the High Court in Auckland, New Zealand, to petition for a continued freeze of Dotcom's assets, Australian Associated Press reported Monday.
The record labels are understood to be Warner Music, UMG Recordings, Sony Music and Capitol Records, while the film companies are 20th Century Fox, Disney, Paramount, Universal, Columbia Pictures and Warner Brothers.
Following a 2012 raid on Dotcom's house, his assets worth $17 million were seized and his bank accounts worth $175 million frozen. In April New Zealand's High Court decided it would not extend the police seizure of assets, including cars, art, jewelry and cash.
The 10 most powerful entertainment companies + the US & NZ Government joined forces to destroy me, a guy who builds websites. #MakingHistory

— Kim Dotcom (@KimDotcom) June 9, 2014
The record labels are seeking damages for the alleged copyright infringement, from which they say Dotcom profited, and want his wealth frozen until their case against him is settled. Their action follows an appeal from the New Zealand's government acting on behalf of the US, which also wants Dotcom's assets frozen.
"If the New Zealand government loses the appeal, the assets will be unfrozen, and there is a significant risk that they will then be immediately dissipated," the studios' lawyers stated in their filing.
Lawyers appearing for Dotcom and his estranged wife, Mona, said they were prepared for it, but wanted the companies to offer security first. They want $NZ250,000 ($US213,000) each.
Come back to daddy!!! pic.twitter.com/NZP1JDmNrj

— Kim Dotcom (@KimDotcom) April 16, 2014
Justice John Fogarty said the amount was "peanuts" for such wealthy clients as the American studios and said the Dotcoms could suffer damages by having their capital tied up.
"We're talking very small change here," he said, suggesting that the parties come to an agreement. Otherwise the case would be heard again later this month.
The government's appeal is to be heard on July 30.
Rent-a-Snowden to the rescue
Meanwhile, Dotcom is seeking extra ammo for his legal battles by offering a $5 million bounty to any whistleblower who can provide his legal team with evidence of wrongdoing by his opponents linked to his case.
"Let me be clear, we are asking for information that proves unlawful or corrupt conduct by the US government, the New Zealand government, spy agencies, law enforcement and Hollywood," Dotcom told TorrentFreak.
He said his lawyers say this move is legal and offered the best legal representation to potential whistleblowers.
The US government wants to extradite Dotcom to face copyright infringement, money laundering and racketeering charges relating to Megaupload. The German maintains that he is a victim of a "corrupt contract prosecution" carried out by US officials, up to Vice President Joe Biden, as reciprocation for Hollywood's support for Obama's re-election campaign.
You can share this story on social media: