Clashes in Chile as thousands of students protest lagging education reform (PHOTOS, VIDEO)
Police in Chile used water cannons and tear gas in Santiago as they clashed with outraged students demanding the government to speed up the process of national education reform. Tens of thousands took to the streets to join the largely peaceful protest.
Throngs of students flooded the streets of Chile's capital and other cities on Thursday to protest the slow-moving reform of the country's education system. Tensions have boiled over for expanded free education and more public universities in recent years, changes to a system largely unchanged since the end of General Augusto Pinochet's authoritarian rule.
Branded as the "National March for Education," the action was called for by numerous student and teacher groups, and was spread on social media under such hashtags as #PorLosQueVienen and #YoMarchoEl21.
#Chile: "Without us there is no reform!" scream thousands of marching students. @PiensaPrensa reports #YoMarchoEl21pic.twitter.com/XEmn3skMVz

— ѕyndιcalιѕт (@syndicalisms) August 21, 2014
There are conflicting reports as to the exact number of students that came out, with police estimating around 25,000 people in Santiago, while student organizers round the number to 80,000 people. On Twitter, some boasted of a 300,000-strong turnout. Other marches took place around Chile as well.
#Chile: 300000 have rallied in Santiago, millions across the country against reforms. #PorLosQueVienen#YoMarchoEl21pic.twitter.com/UowN7Dw2pa

— Anonymous Operations (@YourAnonGlobal) August 21, 2014
In the capital, the protest set off in a carnival-like atmosphere, with performances, drum beating and dances. Most young people took to the streets with huge banners and flags with slogans demanding an immediate and inclusive reform of education.
Parte de lo que ha sido la marcha por la Educación #PorLosQueVienen cc @rvfradiopopular@PiensaPrensa@MaxQuitralpic.twitter.com/q9q5JNJylr

— Emilio Morales (@esmiliodon) August 21, 2014
While the action was mostly peaceful, a few groups clashed with police in the city's streets. Footage showed police using water cannons, firing tear gas and detaining some of the demonstrators.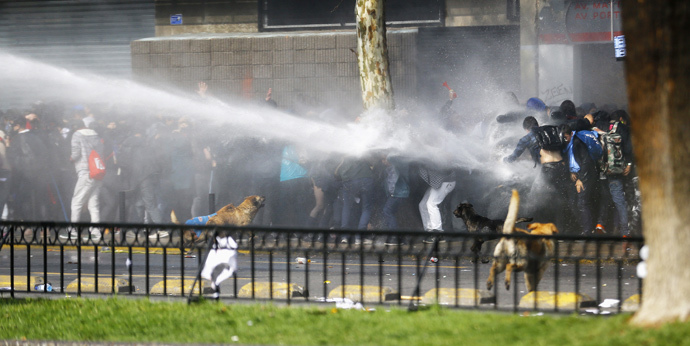 #Chile: 17 arrested during clashes today after massive student march against gov't reforms to education #YoMarchoEl21pic.twitter.com/FL8XSOoRYe

— ѕyndιcalιѕт (@syndicalisms) August 21, 2014
Students complained about feeling excluded from educational reform talks, adding that the process is taking too long and increasing fears of back door deals taking place.
President Michelle Bachelet has promised to make reforms under the center-left government to the privatized education system in Chile, stagnating since the departure of Pinochet, and often criticized for being of poor quality and benefiting the rich.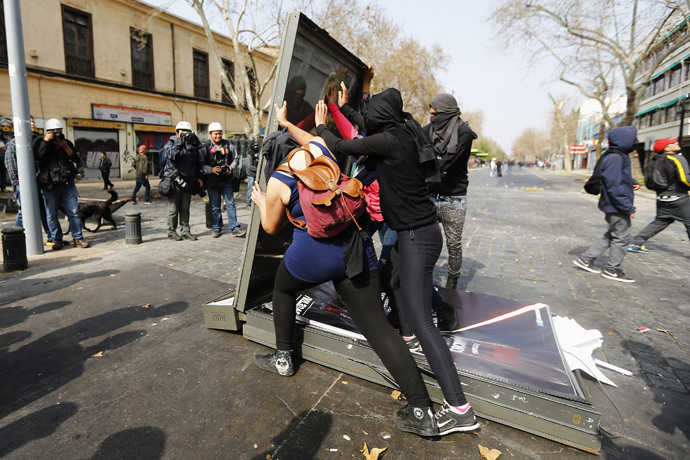 In May Bachelet began pushing through the first part of the reforms in Congress, but the new measures are still being debated in the lower house.
ACÁ DESDE otro ángulo: Carabineros dispara lacrimógenas al cuerpo de manifestantes #YoMarchoEl21pic.twitter.com/kcPIsLJd0T

— Volvimos Recargados (@PiensaPrensa) August 21, 2014
The proposed bill introduces changes to school funding policies, such as stopping the subsidies of for-profit schools and scrapping selective entrance guidelines. The second round of reforms is scheduled to take place later this year and will include making university education free.
In order to pass the reforms Bachelet needs to gain some support from the right, despite having a majority.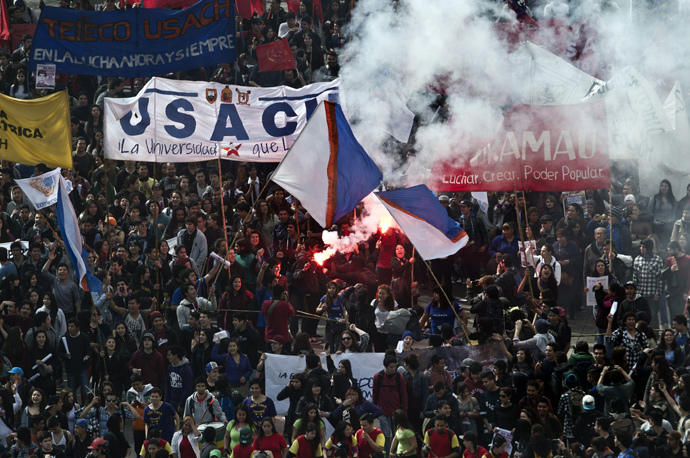 On Wednesday, students staged sit-ins in six Santiago high schools and the Education Ministry, calling on the government to include them in the process.
"The government is dealing with this in a highly disorganized way by avoiding citizen participation and believing that [reform] can move forward with [ entrepreneurs of Chile's Industrial Promotion Society], and the congressional constitutional committee alone," Lorenza Soto, president of the Coordinating Assembly of Secondary Students (ACES), told the Santiago Times.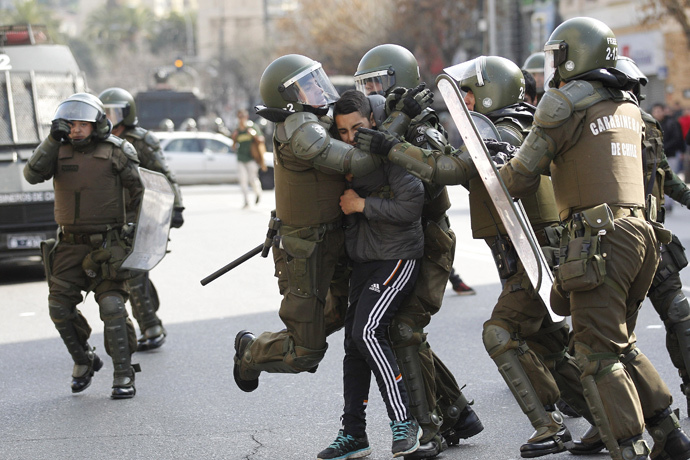 The President of Universidad de Chile's Center for Engineering Students Max Ferrer also expressed disappointed that students are being left out.
"We do not understand why President [Michelle Bachelet] cannot prioritize a substantive dialogue with the student movement, which represents society's interests and not the pockets of few," he said.