Russia food ban protest: Spanish farmers dump potatoes outside supermarket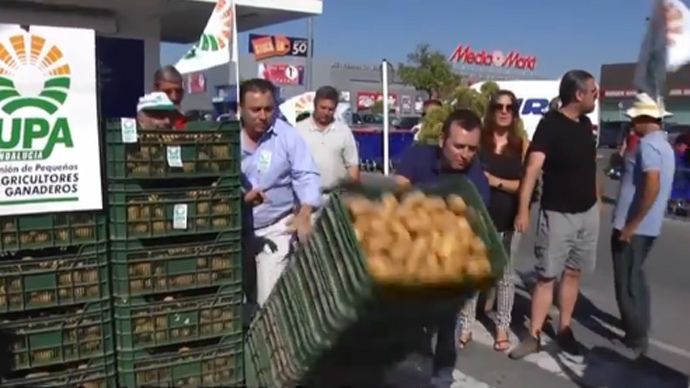 Spanish farmers have dumped thousands of potatoes in front of Carrefour, a major supermarket chain, in response to a move to lower prices, further squeezing suppliers, in the wake of Russian sanctions on agricultural products from the EU.
The demonstration, which was called by the Union de Pequenos Agriultores y Granaderros (UPA), took place on Thursday in Granada, southern Spain and targeted large companies like Carrefour who have taken advantage of the Russian food import ban by lowering prices, thus making it even harder for struggling suppliers.
A representative of the UPA told RT's video agency Ruptly that the length of time the sanctions will be imposed for means farmers may lose an important market in the long term.
"We have to remember once again that the Russian sanctions will be around for a whole year. This means that it will affect us in the present and future. We are risking losing a very important market for our annual work that we'll hardly be able to replace in the short term to recover sales and exports," he said.

Another UPA member expressed solidarity with farmers in other European countries who will also have their incomes slashed.
"Obviously we're not the only ones exporting to Russia. Russian consumers also consume products from Germany, Poland, France and Lithuania. At this moment we have no idea what's going to happen and we are gravely concerned about the magnitude and range of the Russian government's decision," he said.
But although this protest was relatively low key, European farmers are angry both with the EU and Russia over the devastating affect the sanctions will have on their livelihoods.
The UPS is a farmers' union for small and medium scale agricultural suppliers. Last week, outside the Russian Consulate in Seville, they protested the Russian decision to ban European food imports.
On Monday, the European commission announced €125 million ($166 million) in emergency support for framers hit by Moscow's food sanctions but producers are saying that it's a drop in the ocean, with some economists putting the real cost more than a hundred times higher.
The ING Group estimate that the yearlong trade embargo could cost the EU €6.7 billion ($9 billion) and cost up to 130,000 jobs.
The ban includes all meat, dairy, cheese, fruit and vegetables from the EU. The hardest hit countries in the 28 member block will be Poland, Norway (not an actual EU member), Spain and the Netherlands. In Spain alone the value of food exported annually to Russia is $792 million, according to data from Russian customs.
Earlier this week, fruit growers took the streets in Zaragoza, Spain, dumped excess produce on the streets and torched an EU flag in protest at what they see as a derisive amount of compensation from the European Commission.
"This price compensation is not enough. Let's say 20 jobs in our company will be lost. Our salaries will also be affected – then, we will just disappear," a fruit farmer told RT.
On Tuesday, the Polish Economic Ministry sent the European Commission a request to launch an official complaint to the World Trade Organisation (WTO) to examine Russia's EU food embargo.
Russia plans to make up for EU imports by importing produce from other regions, such as South America, and by supplying more home grown produce. The effect of the sanction and the speed with which other suppliers can fill the gap has yet to be seen in Russia.
You can share this story on social media: