Police open fire, use tear gas on crowds as Liberia struggles to contain deadly Ebola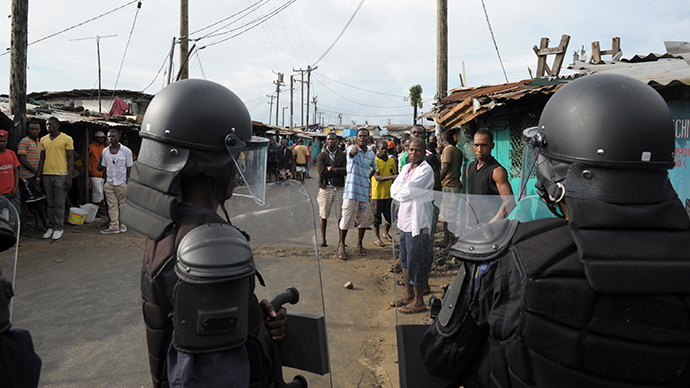 Four people were injured in clashes when soldiers opened fire and used tear gas on demonstrators in the quarantine zone in the Liberian capital, Monrovia. It's as the world tries to contain the fatal outbreak and to find a cure for the deadly disease.
The death toll from the spreading virus mounted by 106 in just two days, and constituted 1,350 victims. In Liberia alone, 576 people have died from 972 cases, AFP reported.
The clashes broke out after the Liberian President Ellen Johnson Sirleaf quarantined the West Point and Dolo Town areas, to the east of Monrovia, and introduced a curfew.
Residents of West Point were outraged at the move, protesting, throwing stones and shouting at police. Witnesses also stated that the violence began after the security forces blocked roads to the neighborhood with tables, chairs and barbed wire. Locals told Al Jazeera they hadn't been warned.
"I don't have any food and we're scared," Alpha Barry, a local who has four children under age 13, said.
"It is inhumane," resident Patrick Wesseh told AFP by telephone.
"They can't suddenly lock us up without any warning, how are our children going to eat?" he added.
On Saturday, youths with clubs stormed an Ebola medical facility in West Point.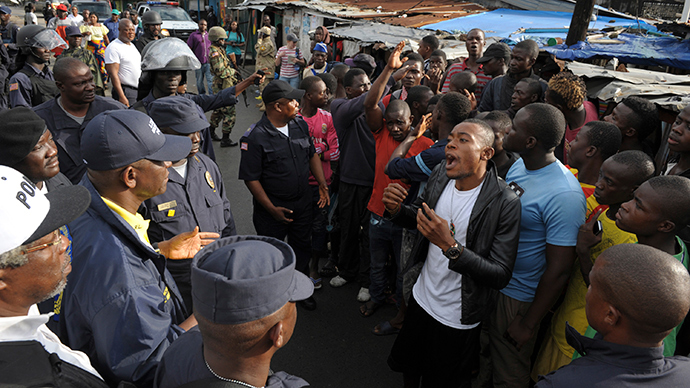 Liberia is one of the four worst-affected African countries, and fears are that the disease is spreading further: authorities in Asia said they had detained several people arriving from West Africa who are suspected to be ill with Ebola.
Currently, two Nigerian citizens who were going to Vietnam are undergoing tests in Ho Chi Minh City. In Myanmar, a local who arrived from Guinea was also being tested for Ebola.
On Tuesday, patients were also being tested for the deadly virus in the US and Spain.
Looking for a cure
No approved treatment or vaccine is now available for Ebola, while fatality rates can reach 90 percent, although in the current outbreak it is about 55 percent.
The WHO said that the majority of infections from Ebola are connected with the funeral practices or the unprotected care of those demonstrating symptoms. Those include high fever, diarrhea and vomiting, which turns into external hemorrhaging from the eyes and gums and then internal bleeding, which can lead to organ failure.
The WHO also green-lighted a few untested treatments, including ZMapp and the Canadian-made VSV-EBOV vaccine, whose possible side effects on humans are unknown.
On Wednesday, a research was published on an experimental drug treatment which can help monkeys survive a tropical virus called Marburg, similar to Ebola.
The findings appeared in the journal Science Translational Medicine, testing the treatment on 16 monkeys.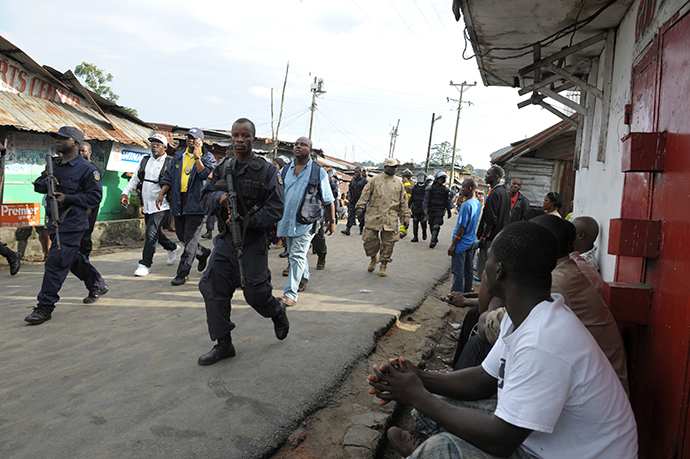 One group received the treatment 30-45 minutes after exposure to a lethal dose of the Angola strain of Marburg virus. Other groups were treated one, two and three days after they were infected.
"All treated animals in all four studies survived," lead author Thomas Geisbert, professor of microbiology and immunology at the University of Texas Medical Branch at Galveston, told South African Press Association.
It comes as the Wellcome Trust and the UK Department for International Development launched an initiative to develop the treatment, with the funds of $10.8 million available to make it happen.
Scientists are requested to submit their proposals for drugs, details on Ebola and how it spreads, as well as the strategies of prevention. All the proposals are to be checked immediately to ensure the urgent start of the work, should any of them prove successful.
"We are launching an emergency call for research to strengthen what we know about Ebola and how it spreads," International Development Secretary Justine Greening said in a statement. "This will help us better equip those working on the ground so they can tackle the outbreak as effectively as possible and prevent more people contracting this terrible disease."
A separate $66.5 million initiative has been taken up by Wellcome Trust to "develop the next generation of African health researchers." The funds will be channeled to sub-Saharan scientists who study neglected tropical diseases, HIV, tuberculosis and other diseases, according to a press release.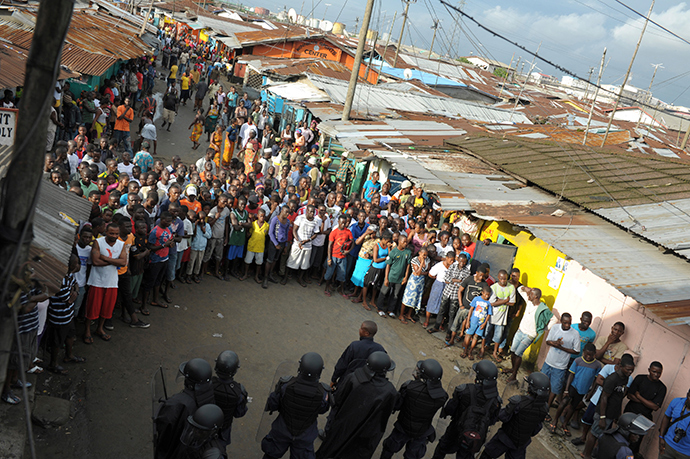 You can share this story on social media: