Ebola spreading faster, out of control for next 6 months – Doctors without Borders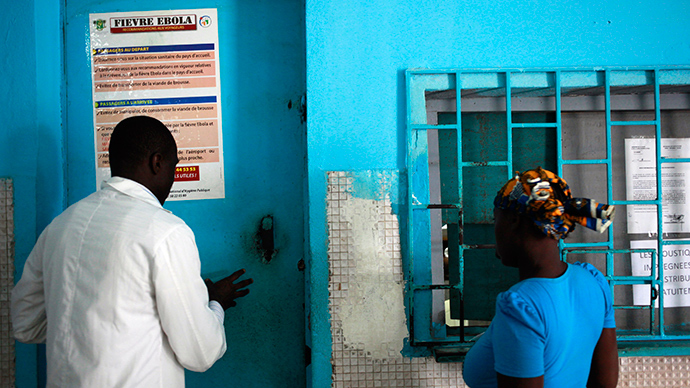 The spread of Ebola is outrunning efforts to stop it, according to international aid group Doctors Without Borders, which estimates it might take six months to get the situation under control.
The chief of the French-founded group, also known as Médecins Sans Frontières (MSF), Joanne Liu, spent 10 days in the disease-hit regions of West Africa, before voicing her conclusions at a Friday press conference in Geneva.

"[Ebola] is deteriorating faster, and moving faster, than we can respond to," she told reporters.

The deadliest ever outbreak of Ebola has already claimed 1,145 lives, according to official figures, which could in fact "vastlyunderestimate" the real magnitude of the disaster, the World Health Organization warned a day earlier.
#Ebola: international response to #Ebolaoutbreak dangerously inadequate http://t.co/4Qqd9FaccZ

— MSF UK (@MSF_uk) August 15, 2014
"It is like wartime," Liu said. "It's moving, and advancing, but we have no clue how it's going. Like in wartime, we have a total collapse of infrastructure."

She gave as an example a 40-bed treatment center in Liberia, where 137 people are being cared for. Overcrowded facilities there are "absolutely dangerous," Liu said.

"With the massive influx of patients that we had over the last few days, we're not able to keep zones of patients anymore. Everybody is mixed," she said.

Overcrowded hospitals do not mean all of those suspected of being infected go there. Superstitions and fears make many in African villages hide their sick relatives at home.

The new Secretary General of the International Federation of Red Cross and Red Crescent Societies (IFRC), Elhadj As Sy, who has also traveled to the Ebola-struck region, said in a Friday statement that "tackling fears, ignorance and stigma" surrounding the disease in the local African communities was a major challenge for IFRC volunteers.
As Sy said it was also "particularly important to stop more healthcare workers in the affected areas from getting infected."
Most infections from #Ebola are linked to traditional funeral practices or the unprotected care of an infected person showing symptoms

— WHO (@WHO) August 15, 2014
Sierra Leone's president, Ernest Bai Koroma, told journalists Friday that the country has lost two doctors and 32 nurses to Ebola.

"We need specialized clinicians and expertise, and that is why we are appealing to the international community for an enhanced response to our fight" against Ebola, he said, AFP reported.

Overall in the four affected countries, 80 healthcare workers died of Ebola. While 170 were infected, according to Doctors Without Borders.
#Ebola-affected countries cannot afford losing any nurses & doctors. It is crucial to stop more health care workers from getting infected.

— Elhadj As Sy (@As_SyIFRC) August 15, 2014
Liberia's president, Ellen Johnson Sirleaf, expressed regret Saturday over the high death toll among the country's healthcare workers who have fought the Ebola outbreak, Reuters reported.

Meanwhile in Nigeria, where three people have died of Ebola, while 169 are being checked for possible infection, the president has decided to sack 16,000 doctors who participated in a strike for better working conditions, Nigeria's Premium Times reports.

News of the country's medical staff being sacked amid fears of epidemic spreading has resulted in a massive online outcry with some of the users blaming the government for untimely sacking of doctors while others blaming doctors for an untimely strike.
Oh cool! So the president fired all the resident doctors in Nigeria during a disease outbreak? Well... #RIP to all of us in advance.

— Ismail (@balogun_castro) August 15, 2014
Authorities of the worst-hit country, Liberia, fear that hunger could become a by-product of the epidemic, as there are not enough food supplies in the quarantined areas.

Liberia has requested emergency food aid from donors.

"We can establish as many checkpoints as we want, but if we cannot get the food and the medical supplies into affected communities, they will leave," Information Minister Lewis Brown said, Reuters reported. "We can't ask our people to starve."

Brown has also criticized the international community for its slow response to the Ebola crisis.

"The reaction quite frankly is not where we would want it to be to give any serious level of comfort," he said.
You can share this story on social media: