Underground life: E.Ukraine civilians pushed to basements by constant shelling (VIDEO)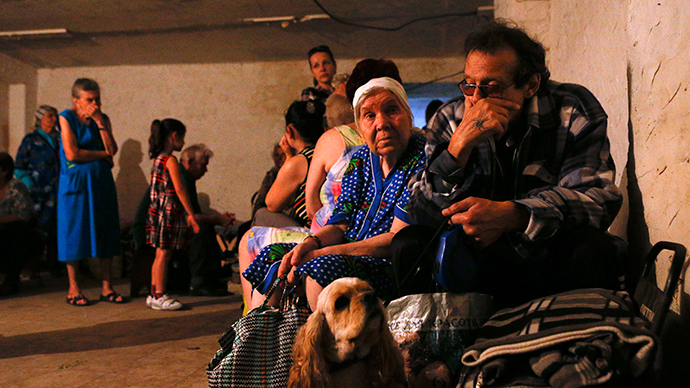 Heavy shelling of eastern Ukraine by the country's military continues, with people in despair and badly in need of water and electricity, hiding out in basements. Constant bombardment is laying waste to entire cities.
Kiev's bloody eastern Ukraine campaign LIVE UPDATES
City authorities say two people have been injured in Donetsk, a city of nearly 954,000 people, on Tuesday. Several apartments, gas pipes and cars have been destroyed by the government barrage. Residents of almost all areas in the city are within earshot of artillery fire.
Bodies lying strewn on the ground, waiting to be picked up by locals have become a common sight. People hiding in basements went out for brief periods of "fresh air," but say they "can't stay out there for long."
The Tuesday shelling of Lugansk by the Ukrainian military has left burnt out vehicles and debris in its wake. As it continued throughout the day, there were 200,000 people left in the city, looking for shelter in basements. Aid was being given out at a downtown building under the control of the Lugansk People's Republic, however, there were "old men and women who [were] scared to go out on to the streets" for food, according to one local.
READ MORE: Kiev deploying missile launchers, multiple rocket systems near Donetsk - Moscow
Buildings were deserted. The sight of broken glass, demolished concrete and desolate streets resembled the situation in the terror-stricken Middle East more than it did eastern Ukraine only a short while ago. This was Donetsk on August 8.
"People have been staying here for about a week now," says one Gorlovka resident of the local Recreation Center, which has become a home for the internally displaced.
She adds that going out into the street is too dangerous, so people stay inside for days on end.
"The shelling takes place mostly at night, or in early mornings... you never know where it's going to hit today. We've got the elderly lying down in the basement, 90-year-old people who require constant care," Maria says.
The center has been without water or electricity for days now, while providing shelter to some 100 Gorlovka residents.
Around 2,000 people have lost their lives since the start of the uprising and the subsequent government assault, by UN estimates.
READ MORE: Ukraine's violent escalation - From Molotov cocktails to ballistic missiles