Kiev silent on whereabouts of missing Russian journalist 2 weeks after abduction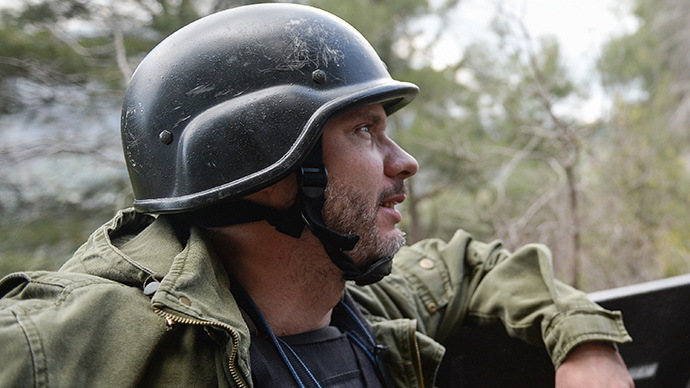 With over two weeks since his disappearance in eastern Ukraine, the whereabouts of Russian photojournalist Andrey Stenin remain unknown. His colleagues suggest that he may soon be freed as part of a large exchange of captives.
Stenin's employers at Rossiya Segodnya news agency (formerly RIA Novosti), said that they have so far failed to get any information on their journalist from the Kiev authorities.

"Our attempts to receive any explanation and accurate information about his fate have been in vain," Aleksandr Shtoll, who heads the photo department at Rossiya Segodnya, said at a press conference in Moscow.

"We'd like to learn of his whereabouts as soon as possible. We're doing everything possible to achieve this," he added.

The Russian government is also "doing everything possible" to locate the journalist, Shtoll said, saying that the country's ambassador to Kiev has already filed two enquiries to the Ukrainian Foreign Ministry, but so far has received no reply.

"The agency did everything for the criminal investigation to be opened into the disappearance of Andrey [Stenin] in eastern Ukraine – and such a case was opened, but there's also no answer there. The only thing that we have is acynical statementby Anton Gerashchenko, an adviser to the Ukrainian interior minister, who said that for now he doesn't want to be bothered by questions on Andrey's fate," Shtoll said.

"Stenin is on the wanted list [in Ukraine], but I'm not sure that Kiev has full control over the entire territory of Ukraine. I have no confidence that they can organize such a search that can help us in our cause," he added.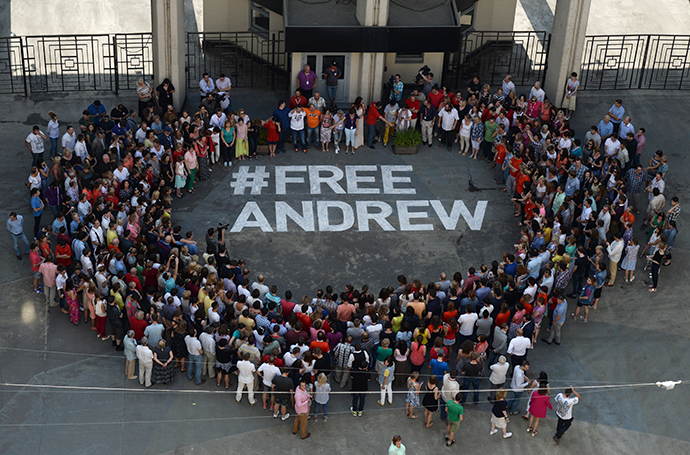 US National Press Club (NPC) has called for Stenin's release in a statement on Monday.
"It is very important that Andrey Stenin be quickly located and freed if he is being held by Ukrainian security services," said NPC President Myron Belkind.
Belkind also said it is "crucial that all sides in this conflict… cease obstructing the ability of the press to cover events in eastern Ukraine, which are of great consequence to the Ukrainian public and to the international community."
Meanwhile, journalist Dmitry Steshin, who covers events in Ukraine for Komsomolskaya Pravda newspaper, said that Stenin may soon be included in a large exchange of captives.

"I'm sure that Andrey [Stenin] is alive and he's being held for a reason, as he's being prepared for an exchange," he said.

Steshin said he last saw Stenin in Slavyansk, in the Donetsk region, and the Rossiya Segodnya journalist had no plans of returning to Russia despite the events heating up in the eastern Ukrainian city, Steshin said.

"Andrey has lost his sense of reality," he added.

Rossiya 24 channel's producer, Oleg Ternovoy, said that situation around Stenin is "unprecedented" as there's no news about the journalist for more than two weeks.

"Let us stand up together to protect our guys because each of us could be in the same situation," Ternovoy urged his Russian colleagues.

On Monday, Russia's permanent mission at UNESCO urged the international community to pay special attention to Stenin's abduction and support calls for his early release.

"Our common goal is to convey information to the public and the media; to support the person in distress. We rely on your help," the mission said a statement.

"We strongly encourage you to support the #freeAndrew" hashtag," the statement added.
Meanwhile, the Ukrainian ultranationalist group Right Sector said that it had nothing to do with Stenin's disappearance.
"This man wasn't seized by the Right Sector troops. I can't give you accurate information on that. That's all the information I have," Borislav Bereza, Right Sector spokesman, told Latvian Baltkom radio.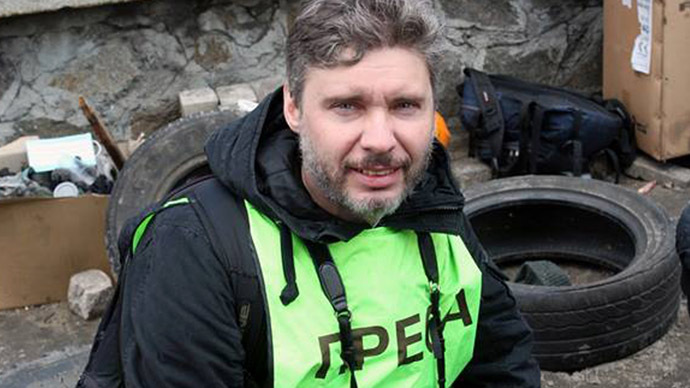 Earlier, other organizations promoting media freedoms and human rights, including the International Federation of Journalists, the European Federation of Journalists, Amnesty International and the US-based Committee to Protect Journalists called on Ukraine to investigate Stenin's disappearance, and release him if he has been arrested.

An experienced war photographer, Stenin went missing on August 5 as he was covering the Ukrainian army's campaign against the anti-Kiev rebels in the country's southeastern Donetsk and Lugansk regions.

His recent work included photos of soldiers of the Ukrainian army captured by the armed militia, the horrific results of Ukrainian artillery shelling of militia-held cities and the crash site of the Malaysian Airlines plane that was downed over the Donetsk region in July.

Latest week, Gerashchenko told Latvian Baltkom radio that Stenin had been arrested by the Ukrainian Security Service and stands accused of "aiding and glorifying terrorism."

The interior minister's adviser later backtracked on the statement, saying that it was only his assumption and that he had no "documentary proof" of the Russian journalist's arrest.

Stenin was put on the wanted list in Ukraine after the Russian embassy in Ukraine inquired about his whereabouts to Kiev on August 8 and 11.

The intimidation and abduction of Russian journalists by the Kiev authorities has become a sad trend since the military campaign began in the country's southeast this April.
Journalist, stringers, cameramen and other staff of LifeNews TV channel, Channel One TV and RT have been detained, interrogated and tortured by the Ukraine security services.

Rossiya channel's Igor Kornelyuk and Anton Voloshin, as well as Anatoly Klyan, were killed by Kiev's troops in June.
You can share this story on social media: