17 Ukrainian soldiers cross into Russia, lay down arms – FSB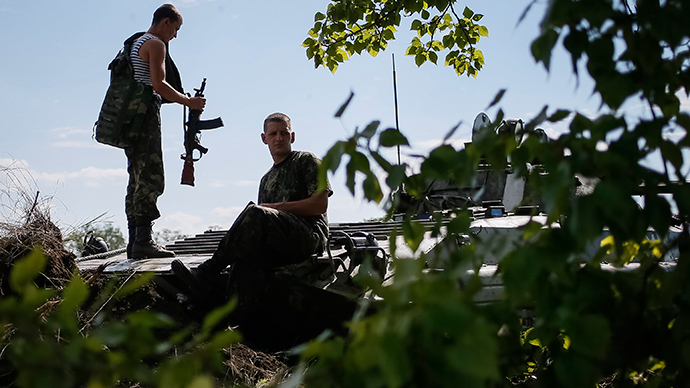 Seventeen Ukrainian soldiers crossed into Russia's southern Rostov region on Saturday and laid down their arms after fleeing the fighting, Russia's Federal Security Service (FSB) said.
"It happened this morning," Nikolay Sinitsyn, the official regional representative of the FSB, told RT. "They were provided with food, and they're safe here. We're carrying out a probe."
"Whoever wants to stay, can do so – after the probe," Sinitsyn said.
On Sunday morning, all the Ukrainian soldiers returned to their country.
According to the soldiers, they made the decision to cross into Russia after their group came under fire in a forest and they had no weapons left to shoot back with.
"We came under mortar shelling," one of the 17 Ukrainian servicemen told Russia's NTV channel. "We were in the forest – out of weapons, out of everything," the man, wearing a black mask hiding his face, said. "The chief told us to get out of the place. So, we got out."
Another Ukrainian soldier said it was a joint decision by the group.
"The commander said there was such an option [to cross into Russia]. Of course, he would bear responsibility for the consequences. But we decided together that it was better to leave," he said.
It's not the first time that Ukrainian troops have crossed into Russia: in early August, 438 soldiers were allowed to enter the country after they were surrounded by self-defense forces on Ukrainian territory, lacking equipment and clear orders from their commanders.
Ukrainian prosecutors have launched over 480 cases into the defection of military personnel since the start of Kiev's military operation in the east of the country, said Pavel Bogutsky, the Southern Region prosecutor in charge of military cases.
"The investigation into 145 criminal offences has been completed, and the indictments have been sent to court," he said during a meeting of top military personnel on Friday.
"Over half of these indictments concern people who deserted, refused to carry out their military duties and disobeyed orders," he added.
Over 30 people have received actual sentences so far, he said.