Napping & Tableting: Indian plane 'drops 5,000 feet' as pilots asleep, distracted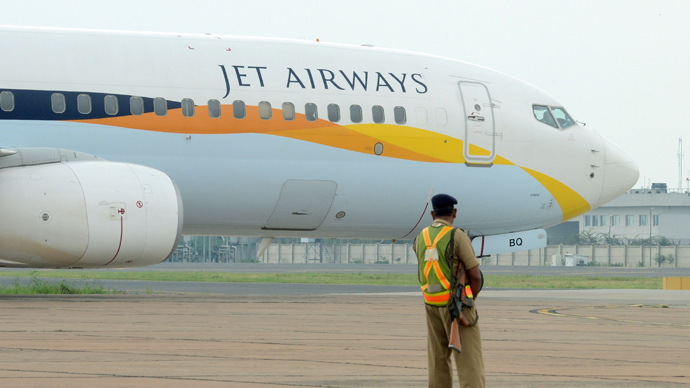 India's aviation watchdog has launched an inquiry after reports that a Jet Airways Boing 777 suddenly lost 5,000 feet over Turkey's crowded skies. The pilot was said to be taking a "controlled nap" while his co-pilot was looking at her tablet computer.
The Directorate General of Civil Aviation (DGCA), India's aviation watchdog, first got to know about the incident Tuesday when its joint director general, Lalit Gupta, received an anonymous text about the uncontrolled decent, the Times of India reports.
The captain of the plane, en route from Mumbai to Brussels, was taking a controlled nap as per the rules on long flights. The co-pilot, who was supposed to be holding the fort in the cockpit, claimed she was busy on her electronic flight bag (EFB) – a tablet that has all aircraft documents loaded onto it.
Both pilots' names were not given.
The co-pilot said that she didn't realize the aircraft had dropped below its assigned level and it wasn't until she received a call from a panicked air traffic controller that she woke up the captain, who brought the aircraft back to its assigned height.
Air Traffic Control in Ankara was particularly concerned because Turkey's airspace was chock-a-block with airlines avoiding Iraq and Ukraine.
Indian aviation authorities will be investigating if the co-pilot had herself dropped off or accidently pressed something in the cockpit or on her tablet, which led to the loss of altitude.
India's DGCA watchdog has described the descent as "a serious incident" and Jet Airways has also said it is opening "an internal inquiry" in to the matter.
"Safety is of paramount importance to Jet Airways, as is also the welfare of our guests and crew and the airline will always take appropriate steps to ensure the same," the airline said in a statement.
The DGCA has said it has decided to audit Jet's training procedures for pilots, as they should have filed a report on the incident immediately after it happened.
"The captain did not file a report," said an official. "The two pilots kept flying after the [incident], which took place last Friday, till we grounded them on Tuesday. We got to know about it only from an anonymous complaint."
Both pilots have now been "taken off the roster pending an inquiry."
You can share this story on social media: