3 days in Donetsk: 70+ civilians killed, over 100 wounded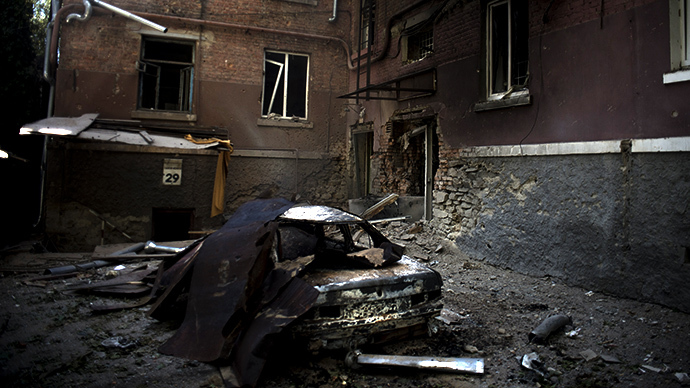 Over 70 people have been killed in the Donetsk Region, and 116 others have been wounded over the last three days of fighting in eastern Ukraine, according to a statement by regional authorities.
The Ukrainian army has been shelling Donetsk and its suburbs overnight as well. On Tuesday, the military seized a key train station near Donetsk.
Many civilians are also feared dead after Kiev authorities resumed shelling of eastern districts in Lugansk, the city council reported. No figures for the number of casualties are known yet.
"According to residents' reports, eastern Lugansk came under intensive artillery attack on Wednesday," the city council said on its website. "Witnesses say that as a result of the shelling, many civilians have been killed and wounded."
The city has been without water, electricity and fuel for almost two weeks.
Fifteen people were killed and 19 injured in mortar fire in Donetsk region's village of Zugres on Wednesday, local authorities said, citing health officials. Among those killed were three children.
On Wednesday, the UN Human Rights office issued a statement saying that number of casualties in eastern Ukraine has doubled over the last two weeks, reaching over 2,000 people according to "conservative estimates." Almost 5,000 have been wounded.
Over 60 people have been killed or wounded every day, UN human rights spokeswoman Cecile Pouilly added.
Dmitry Kazadaev, a Lugansk resident, told RT that the Ukrainian forces are targeting mostly civilian locations – not the one where the self-defense forces are stationed.
"There are a lot less casualties among the self-defense forces than among the civilians," he said. "And these stupid bombings of residential areas... you can take a look. There are a few houses destroyed here, two more over there, and one person died near that school. Why are they doing this?"
Lugansk residents say that have "to wait in line several times just to get humanitarian aid stamps," then "go stand in another line for this store, in order to actually get this aid." The whole process is described as a "big hassle."
One woman lost consciousness right before her turn in line came. So she was taken to hospital without getting her aid, one resident told RT.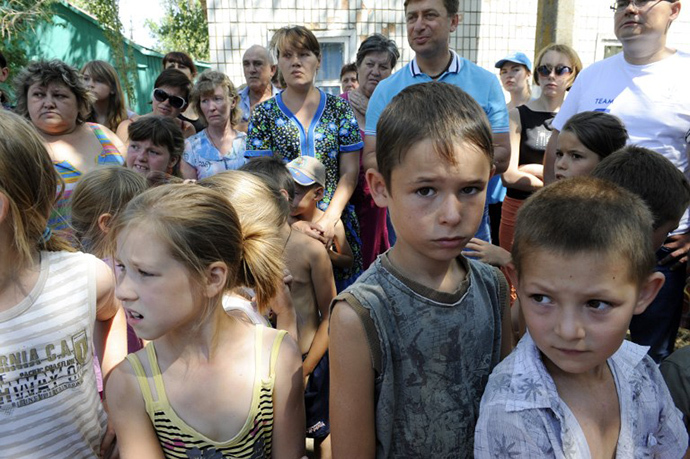 You can share this story on social media: