'Life stopped for us': RT joins Lugansk residents fleeing violence in E. Ukraine
Lugansk, where the sound of gunfire is routine and basics like water in short supply, has seen thousands flee for safety. RT's crew joined civilians, driven out of their homes by "outright panic," on their way to a refugee camp.
LIVE UPDATES: Kiev's bloody eastern Ukraine campaign

A missile that's exploded somewhere outside sends a chandelier in Valentina Lazareva's apartment swinging. That makes her speed up with her packing. She already sent her daughter and her granddaughter to family friends in Russia a month ago. Now she realizes she has to leave almost all of the possessions behind and flee, as well to try and get her life back.

"Life just stopped for us," Lazareva told RT's Maria Finoshina. "We wake up, stand in the bread line for two hours, then get water. And then we cook a meal to eat, and the same thing happens every day. At least when we're standing in line we can all listen to the news on the radio."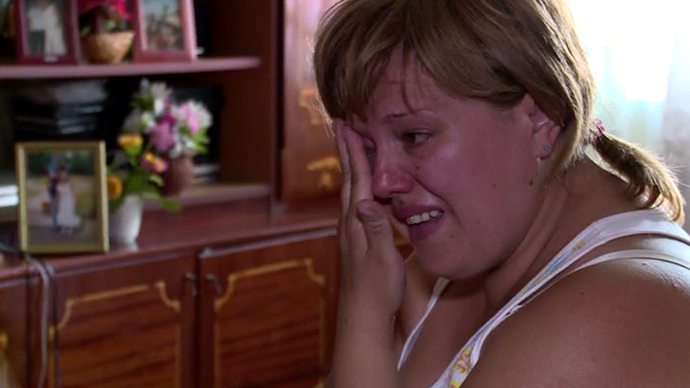 The house of 61-year-old Zinaida Potapova, from Lugansk Region, came under shelling twice. She was lucky not to be hurt. She has however seen enough to make up her mind to flee her home. Zinaida says the decision to leave was a very quick one, dictated by "outright panic."

"I was at a bus stop and then I decided to leave it for some reason," she recalls. "As soon as I left the bus stop, a shell exploded right behind me. Five people died. One man had his head blown off, and a woman lost her leg. It took me three days to get over it."

The RT crew made sure both women were able to leave the war behind and make it to a crowded Russian refugee camp, just over the border with Ukraine.

Meanwhile around 250,000 people in Lugansk have been left without the basics like water and electricity for more than 10 days. The city is subject to siege conditions by pro-Kiev forces and under heavy bombardment.

On the brink of survival: No electricity, water, communications in besieged Lugansk, E. Ukraine

Over the last four days 2,160 Lugansk civilians have used a humanitarian corridor out of the besieged city and made it to Schastie, a town in the Lugansk Region, the press service of the regional administration reported on Tuesday, adding that the overall number of civilians who have used the corridor exceeds 5,500.

Schastie has been expected to become the final destination for the Russian humanitarian convoy, according to the deputy premier of the self-proclaimed Donetsk People's Republic, Andrey Purgin.
"The convoy goes in the direction of Lugansk, through Kharkov and will most probably stop in Schastie," he said.

However, the head of the Ukrainian Interior Ministry, Arsen Avakov, said on Wednesday the convoy will not be allowed inside the country.

"No Putin 'humanitarian convoy' is going to be allowed to go through the Kharkov Region," he wrote on Facebook. "Provocation of the cynical aggressor on our territory is unacceptable. This is official."

Earlier, the Russian Foreign Ministry received a note from the Ukrainian government expressing its readiness to accept the Russian humanitarian aid.
#Donetsk rocket attack kills woman and child http://t.co/6747fcdXFw

— Ruptly (@Ruptly) August 13, 2014
The death toll in the ongoing Ukraine conflict nearly doubled to 2,086 as of August 10 from 1,129 on July 26, according to "very conservative estimates" by the United Nations human rights office.
"This corresponds to a clear escalating trend," UN human rights spokeswoman Cecile Pouilly told Reuters.

More than 60 people a day have been killed or wounded since fighting began in mid-April in eastern Ukraine, she said. Nearly 5,000 have been wounded.
You can share this story on social media: