Puppy helps find 4yo girl lost in Siberia for almost 2 weeks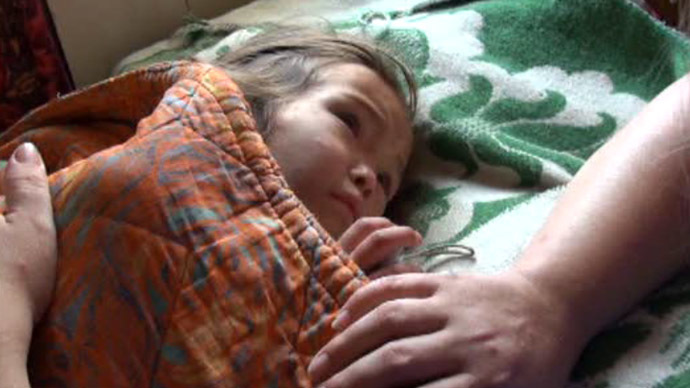 Family and rescue workers almost lost hope of finding a 4-year-old girl who went missing with her puppy in bear-infested Siberian marshes and forests almost two weeks ago. Luckily, her pet returned and this helped find the trail to the missing girl.
Karina, from the village of Olom, in the Yakutia Republic in the east of Russia, left home on July 29 and went wandering in the swamps and forests.
The rescue operation started on August 2 and was joined by almost a hundred locals, who roamed the harsh Siberian taiga for several days. They entered the forest accompanied by armed hunters and special police forces as the area is inhabited by bears.
An array of technologies were involved in the search and rescue operation, including an unmanned aerial vehicle that surveiled the area in real time, while a helicopter crew also looked for signs of the little girl.
Several days ago Karina's puppy returned home, said rescue worker Afanasy Nikolaev, adding that at first the family had lost all hope that Karina was alive.
"We hoped that the pet was with the girl and kept her warm during the cold nights, when temperatures drop below zero," he told the NTV channel.
However, it was the puppy that helped the rescuers find a trail, which led to the missing child.
Karina was spotted by 21-old local Artyom Borisov, who works as a volunteer helping to battle forest-fires, according to Komsomolskaya Pravda newspaper.
"When we learned that the child went missing, we left everything and joined the search on Monday. We had almost no sleep for days while searching the area. I honestly did not even hope to find her alive - after all, ten days had passed since she went missing."
Borisov says that August 9 will probably become the most important day of his life. "Miracles do happen! I saw her sitting between hillocks in the tall grass. When the child saw me, she wept quietly and reached out her hands. My heart sank, and tears filled my eyes. She was weak, pale and very skinny. The girl immediately asked me for food and drink," he said.
He added that she had lost her shoes and was wearing a T-shirt and tights. "The tights were torn, her heels were bruised and scratched, she apparently walked a lot," he said.
After her miraculous rescue, the 4-year-old child is in intensive care and is doing well, according to doctors. She cannot remember why she left home, but her family says she may have decided to follow her father – a fire-fighter who was sent to battle forest-fires in a remote region in Siberia. For several days the family didn't suspect that the child was missing - the girl's mother thought Karina was with her husband, but couldn't reach him due to poor phone reception.