'It's a miracle': Indonesian girl missing after 2004 tsunami reunites with family
Published time: 9 Aug, 2014 04:05
Edited time: 10 Aug, 2014 16:41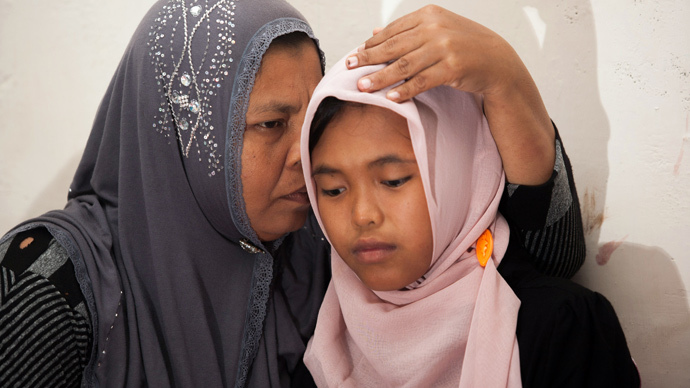 An Indonesian girl has been reunited with her family after being swept away by the 2004 tsunami. The girl was spotted on the street by a relative who recognized her after a decade.
The strong waves of the tsunami swept up Raudhatul Jannah, who was four years old at the time, and her seven-year-old brother in Aceh province on December 26, 2004.
Both their parents survived the earthquake and tsunami that took the lives of 170,000 people in their own province and killed tens of thousands of others around the impacted area.
Ten years later, Raudhatul's family has learned that she was saved by a fisherman who found her on a remote island southwest of her home and handed handed her over to his own mother to be raised.
"God has given us a miracle," Raudhatul's mother told AFP.
The girl, who is now 14, was spotted walking on the street by her own uncle, who noticed the resemblance. After asking a few questions about the girl, it became clear that she was the missing daughter of his sister.
"My husband and I are very happy," Raudhatul's mother, Jamaliah, said. "I am so grateful to God for reuniting us with our child after 10 years of being separated."
Raudhatul's parents came to see her for the first time in June. "My heart beat so fast when I saw her. I hugged her and she hugged me back and felt so comfortable in my arms," she added.
On Wednesday, the girl returned to her family's home.
Raudhatul's brother, who is now 17 years old, also survived the disaster, but his location is unknown.
Jamaliah and her husband are hopeful that they have a chance of finding their missing son too. "We have reported our son missing to the police so they can help us find out his whereabouts," Raudhatul's father, Septi Rangkuti, said.