Indonesia's violent Mount Kelud eruption kills 3, displaces hundreds of thousands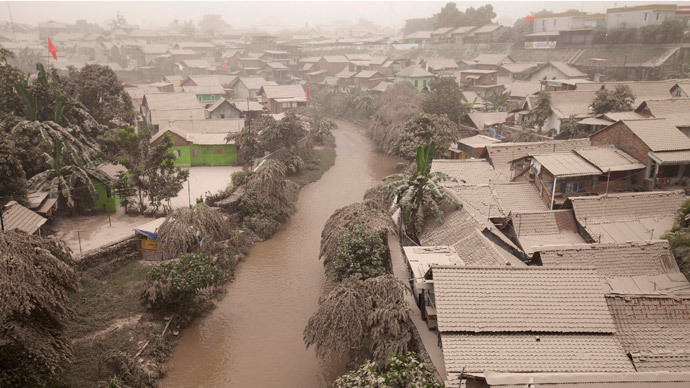 The Indonesian island of Java is in a state of emergency, as a gigantic volcano eruption causes 200,000 people to flee their homes, as airports shut down and 17-kilomoter plumes of ash blanketed the sky.
Thursday night's eruption of Mount Kelud was so powerful it was heard at distances of 130 kilometers in the country's second largest city of Surabaya, as ash blanketed everything in the vicinity. The volcano is considered to be among the most dangerous on the densely populated island.
Friday saw two people lose their lives after roofs collapsed onto them under the sheer volume of ash, the local disaster mitigation agency reported. Another elderly man died from inhaling the ash.
Local TV stations showed a surreal picture of dust-covered houses, cars and streets, with ash raining down and no light breaking through.
The mountain, located in the province of East Java, has produced a cloud that steadily migrated westward, leading to seven closed airports as thousands of panicking inhabitants tried to escape their home. The only two operating airports that remained were both in the capital Jakarta, Reuters said.
"The rains of gravel and sand have reached 15 kilometers from the crater, hitting and impairing those being evacuated. This means that the evacuees must go farther than 15 kilometers," Umar Rosadi, a volcanologist at the national volcanology agency, told Xinhua by phone.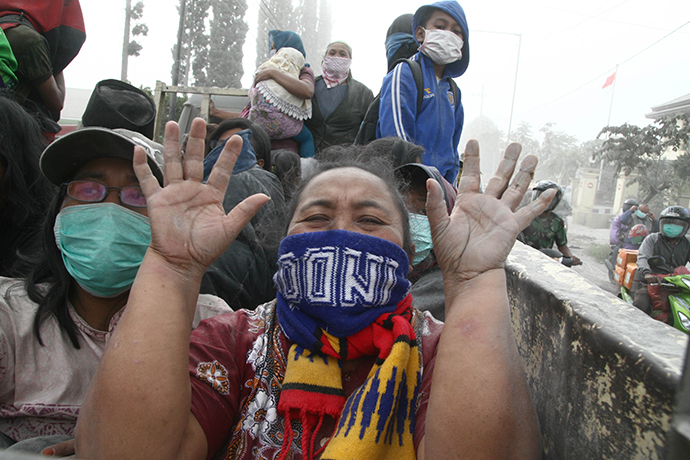 The 1,731-meter volcano became active at 22:50 local time, leading to evacuation warnings for some 200,000 of the island's inhabitants spread out across 36 villages, all within a radius of 10lm from the crater.
About 90 minutes after authorities raised the alert status to the highest level, the volcano erupted, Muhammad Hendrasto, head of the country's volcano monitoring agency said.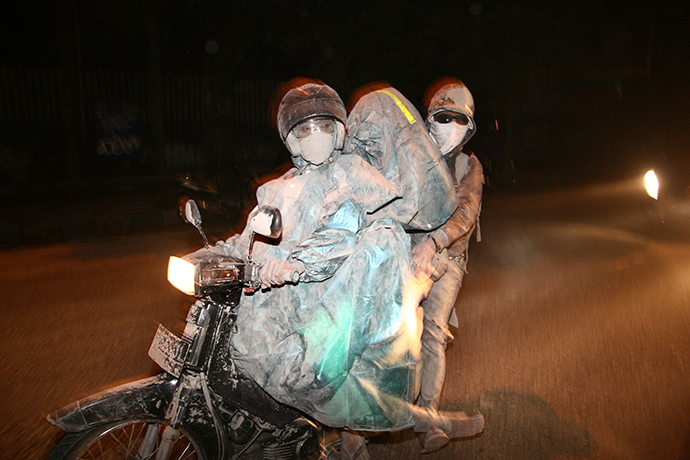 The latest information now states the eruptions have ceased, but the giant plume of ash still extends to 500km westward and to the north-west.
And the damage caused by the eruption extends beyond evacuation and property damage. As Soemitro Samadikoen, chairman of Indonesian Sugarcane Farmers Association told Reuters: "With this very small impact and high stock (in the domestic market) we do not need to import white sugar from other countries."
Apart from the two fatalities, however, there wasn't any substantial damage caused to the infrastructure and buildings otherwise, with around three to five centimeters of ash covering the roads.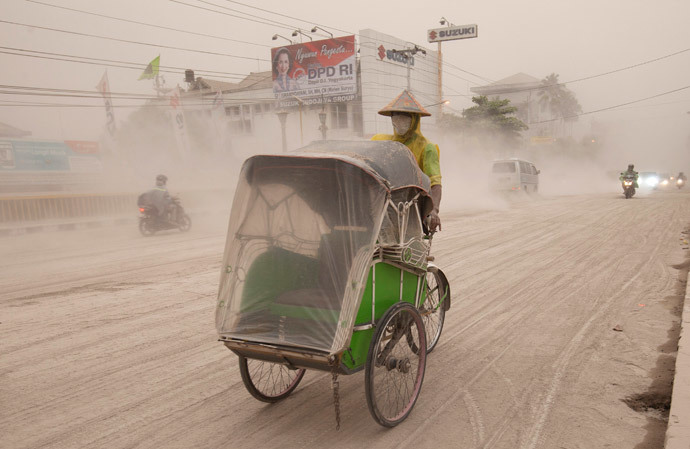 Indonesia's President Susilo Bambang Yudhoyono has announced his trip to the affected areas on Twitter. No further details are known at this time.
Kelud is among about 130 active volcanoes in Indonesia. The last Kelud eruption was in 1990, killing more than 30 people and injured hundreds.
Earlier this month, at least 17 people were killed when Mount Sinabung volcano erupted in North Sumatra.
You can share this story on social media: