Two people injured in blast in central Kiev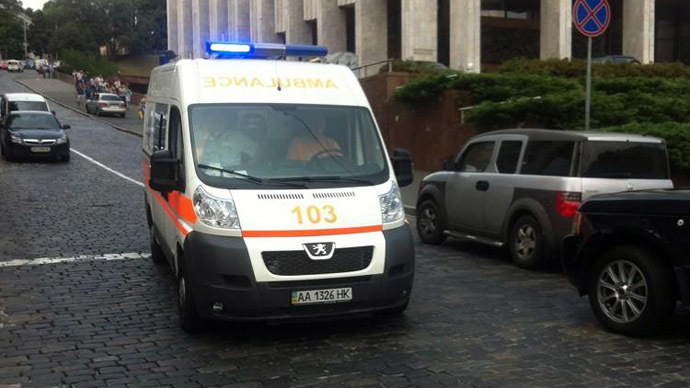 A blast went off at the European Square in Kiev city center, according to reports by local media. It is unclear what caused the explosion.
Police and road traffic officers are arriving at the scene.
"Explosives experts and a team of investigators are on their way," Kiev police told Itar-Tass.
Filming at the square has been banned by law enforcers, according to eyewitnesses, cited by LifeNews.
Первые фотографии с места взрыва в Киеве http://t.co/XzvuR5KQRbpic.twitter.com/p3S070WvlD

— LIFENEWS (@lifenews_ru) August 8, 2014
Two people have been wounded in the explosion, probably caused by a homemade grenade, RT correspondent on the ground, Irina Galushko reports.
Medics confirm two people were injured in the blast.
"It's hard to assess the wounds right now," a doctor at the scene said. "One of the men has a more serious injury and needs to be taken to hospital."
Explosion in #kiev; seems like homemade grenade. 2 people wounded, taken away in ambulance #Ukraine

— Irina Galushko (@IrinaGalushkoRT) August 8, 2014
European Square is only around 400 meters from Independence Square (Maidan), where activists have been camping since November, 2013.
Police & activists clash on Maidan, tires burn anew in central Kiev
An attempt to dismantle the camp on Thursday sparked violent clashes between protesters and police.
Ukraine's deputy police chief has announced an agreement has been reached between Maidan protesters and the Kiev authorities to clear road blocks in the city center. This is planned to be done on Friday at 5 pm local time.