Police & activists clash on Maidan, tires burn anew in central Kiev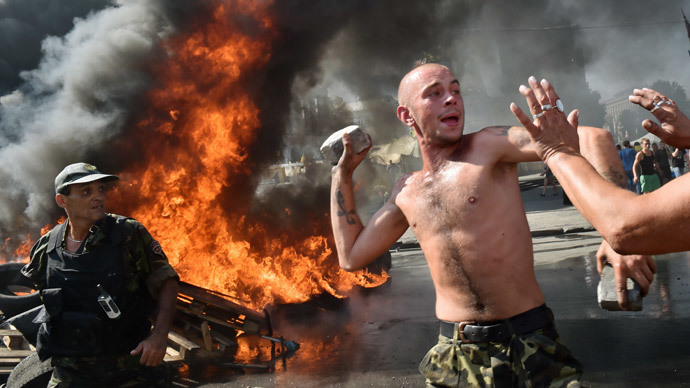 Activists and police have clashed in the Ukrainian capital's center after communal workers tried to dismantle the camp. It follows a months-old conflict over the camp with the city administration.
BREAKING: Police & activists clash on Maidan, tires burn anew in central Kiev http://t.co/oJPq9PIhzh#Ukrainepic.twitter.com/7HMEaeJml7

— RT (@RT_com) August 7, 2014
Up to 10 people have been detained as a result of the Maidan clashes and a criminal case has been launched alleging hooliganism, according to Interfax.
Fifty law enforcers from Ukraine's interior ministry's battalions, Kiev 1 and Kiev 2, were wounded, with three of those receiving serious injuries, police chief Aleksandr Tereshchuk told a media briefing.
It is currently unclear whether there were wounded among the protesters.
Camp residents are currently fortifying the old barricades and building new ones, Ria Novosti reported.
Law enforcement officials have been injured in the clashes with activists on the Kiev's Independence square, according to the Interior Ministry press service.
It's not known how many people were injured, ITAR-TASS reports. The majority of injuries were from stones thrown by protesters.
The smoke from burning tires can be smelt all over the city center, witnesses say.
#Ukraine: Tires burning at Kiev's Maidan Square pic.twitter.com/3UUBcf4y7jhttp://t.co/YtaPqbJrkM

— RT (@RT_com) August 7, 2014
Activists living in the camp were also throwing Molotov cocktails at police, while barricades and tires were burning on the square, the heart of anti-government protest that began last year.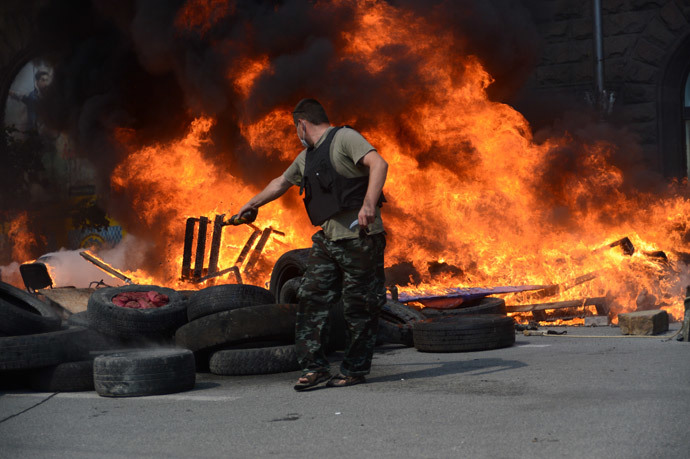 "Police were carrying out public order maintenance and the work of communal services, but then the camp caught fire, and the fire brigades are now dealing with the blaze," the Kiev police press service stated to Interfax Ukraine.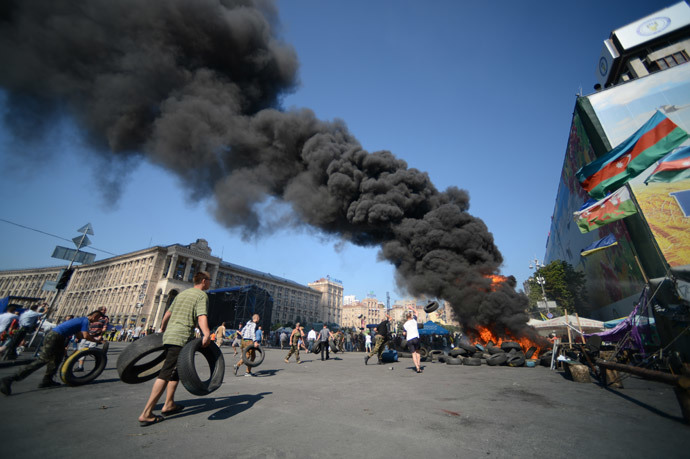 Sources in law enforcement suppose that the camp residents set their tents on fire themselves to prevent the communal services from doing their job. There's also information that there are weapons in the camp.
Earlier on Thursday, communal services were dismantling the barricades, and confiscated about 20 boxes containing bottles of flammable mixture.
Law enforcement officials and Kiev authorities have been urging the activists to leave Maidan and free the seized buildings for months, but the activists have refused to do so.
In July, Ukraine's Prosecutor General Vitaly Yarema urged the activists to leave Kiev's Maidan and free seized buildings.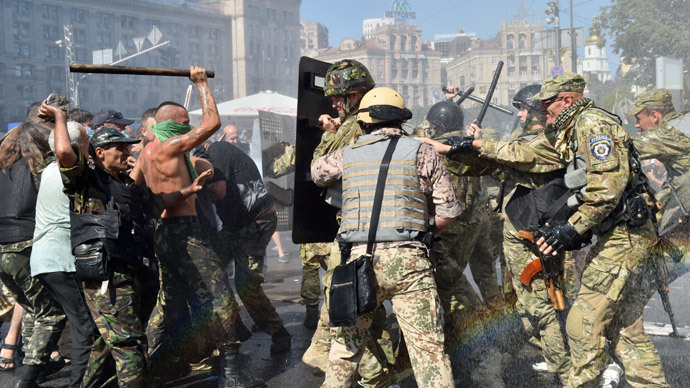 Yarema underlined that the refusal to obey would entail criminal responsibility.
Kiev's Independence Square has been the main hub of the popular uprising since last November. Around a thousand people were still on the square in July, according to Kiev's Mayor Vitaly Klitschko.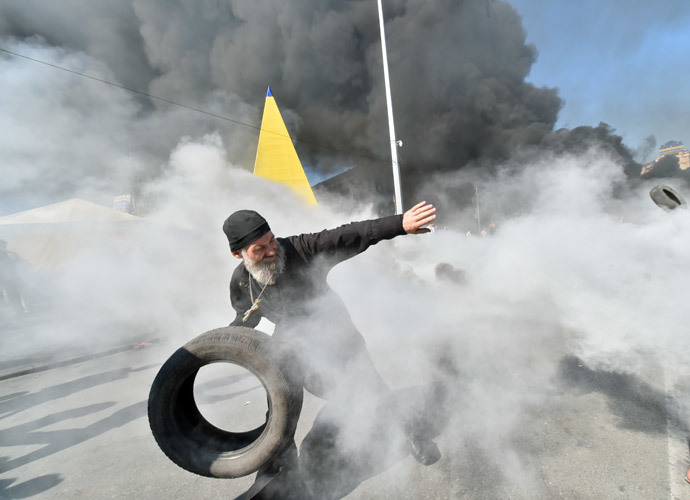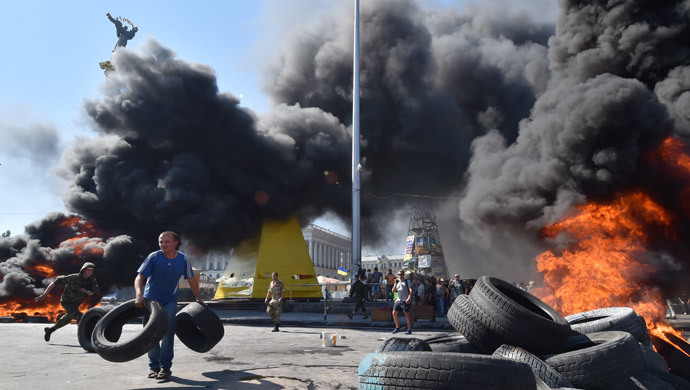 Protesters seized 19 buildings, including administrative offices and hotels, with almost 500 activists living there, according to the prosecutor general.
#Ukraine: Black smoke billows as tires burn on Kiev's Maidan Square http://t.co/oJPq9PIhzhpic.twitter.com/lnbZoNQajc

— RT (@RT_com) August 7, 2014