Fukushima operator to decontaminate toxic water, dump into Pacific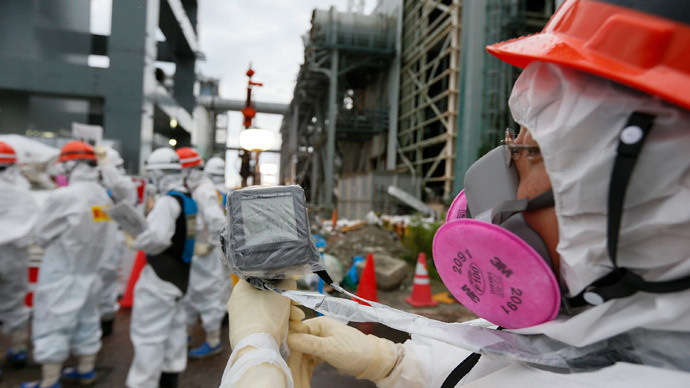 For the first time, Fukushima Daiichi's operator TEPCO says it is planning to pump contaminated water from the crippled nuclear plant and dump it into the ocean after processing it to remove radioactive materials.
Tokyo Electric Power Company (TEPCO), the operator of the crippled nuclear plant, is in talks with government ministries about the new plan, Japanese media reported on Thursday.

TEPCO has dumped water into the ocean numerous times after testing its safety. However, if this plan is approved, it will be the first time the company has released water that has already been contaminated.

The plan is aimed at battling the growing amounts of contaminated water accumulating in the plant's buildings and to reduce the volume of groundwater that is flowing through the premises and becoming contaminated.

Some 400 tons of untainted groundwater are believed to be seeping into the buildings and mixing with toxic water generated in the process of cooling the crippled reactors on a daily basis.
READ MORE: Fukushima nuclear meltdown worse than initially reported - TEPCO
The new plan would involve subdrains that were built around buildings on the plant site. The 27 subdrains were originally used to collect groundwater and release it into the ocean to lower the groundwater level. Following the earthquake in March 2011, they were damaged and the groundwater started to get contaminated.

TEPCO plans to repair the subdrains and create 15 additional ones to reduce the volumes of contaminated water to around 200 tons a day, or half the present level.

According to the plan, TEPCO is to remove radioactive cesium and strontium from the water and release it into the sea.

The Fukushima operator has submitted a request for approval to use the new equipment to the Nuclear Regulation Authority. TEPCO plans to start the process in the autumn.

Government authorities together with TEPCO officials visited local fisheries to explain the plan at the end of July, officials said, adding that they are waiting for the consent of local residents.
Abnormalities in Japanese monkeys linked to Fukushima nuclear disaster
It will be difficult for TEPCO to receive approval for the plan, as the utility has been fiercely criticized over its management of Fukushima in the wake of the 2011 earthquake-triggered tsunami that decimated the plant.

"Fishermen are sure to raise objections to the plan so it will be difficult to gain their understanding," an official said, as quoted by Asahi Shimbun. "The water close to the plant buildings is already contaminated."

In May, the company launched a groundwater bypass program aimed at pumping the groundwater at the uphill side of the facility and testing it for radiation, then flushing any uncontaminated water into the Pacific Ocean. The company has also been constructing an underground frozen soil wall to stop groundwater from reaching the plant.
You can share this story on social media: