NATO plans joint drills with Ukraine, invites Poroshenko to summit
Published time: 7 Aug, 2014 17:39
Edited time: 7 Aug, 2014 19:29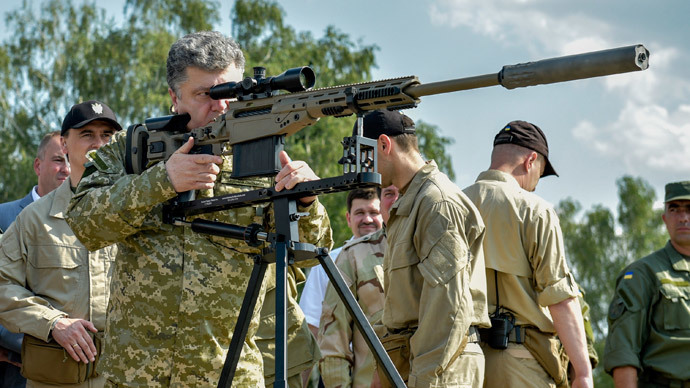 The North-Atlantic bloc's chief says NATO is planning joint exercises with Ukraine and that President Petro Poroshenko is expected to join their summit in Wales.
The Secretary General of the organization, Anders Fogh Rasmussen, was at a press conference in Kiev, where he outlined that NATO would also work with Ukraine on defense planning, as well as how to reform its armed forces and institutions. Rasmussen repeatedly made the point that they are ready to advise and assist Ukraine.
"As a sign of our strong support and solidarity, we have decided to hold a special meeting with Ukraine in Wales and I look forward to seeing Mr Poroshenko there," NATO's Secretary General added.
NATO conducted drills in the Black Sea as recently as July, albeit without Ukraine due to the turmoil in the country. The main objective of the exercise was to improve collaboration between the naval forces of different NATO member states. The Sea Breeze naval drills have been conducted annually since 1997.
Rasmussen also reiterated that cooperation with Russia is not going to be restored at the moment. Rasmussen blamed Moscow for the unrest in eastern Ukraine.
"We have not seen any changes in Russia's behavior. We do not have any other choice but to keep our cooperation with Russia in all areas suspended."
"This has affected projects like Afghanistan, terrorism, narcotics and piracy," Rasmussen declared. "Cooperation will continue to be suspended until Russia begins to comply with founding documents of cooperation between NATO and Russia."
He also mentioned that Russia had amassed 20,000 troops near the border and could be planning a ground invasion of its neighbor, mentioning that Russia "should not use peace-keeping as an excuse for war-making."
READ MORE: Reports of Russia's military build-up on Ukraine border groundless - Moscow
In April, NATO announced that it is suspending all military and civilian cooperation with Russia over the Ukrainian crisis. However, NATO stated that the organization will continue political dialogue. At the same time, the alliance intensified security cooperation with Ukraine and agreed on a package of measures aimed at strengthening cooperation with other NATO partners in Eastern Europe.
Rasmussen said that he expected Russia's cooperation with NATO in Afghanistan to continue, including training counter-narcotics personnel, maintenance of Afghan air force helicopters and a transit route out of the country.
The decision, however, was expected to affect the counter-narcotics and helicopter programs, a senior alliance official told Reuters in April, following the announcement.
"We are exploring avenues to see if there are other ways we can provide training to those counter-narcotics officials through other agencies or in cooperation with other partners," he said. NATO-Russian cooperation through the helicopter maintenance trust fund would also be halted, he added.