At least 68 killed, dozens injured in China metal factory blast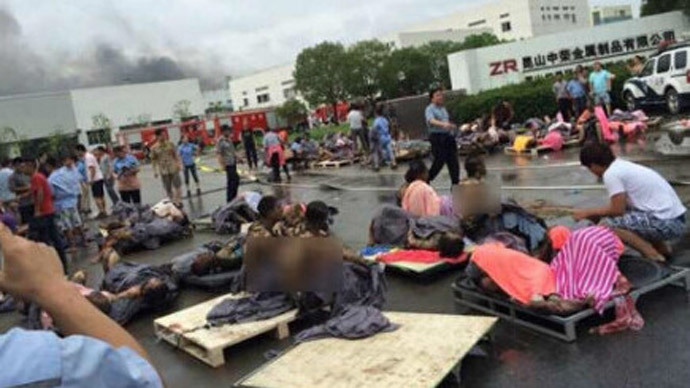 At least 68 people have been killed and over 187 injured after a huge explosion hit a metal production factory in Kunshan City in China's eastern Jiangsu Province, China Central Television reports.
The blast occurred at around 7:37 a.m. local time inside a wheel hub polishing workshop of a metal factory, according to Xinhua.
A regional hospital received nearly a hundred wounded, while medical teams returning from the scene reported numerous cases of severe burns and respiratory complications.
Images posted online showed charred bodies and people with burnt clothing congregated outside the factory complex, which was still billowing black smoke, reports AFP.
"The scene is a mess, its unrecognisable," a witness at the scene wrote via Sina Weibo, a popular Chinese micro-blogging service.
At least 65 dead & over 120 injured after a huge #explosion hit a metal production factory in East China's Jiangsu. pic.twitter.com/gPjFfemedb

— CCTVNEWS (@cctvnews) August 2, 2014
Death toll rises to 65 in blast at a factory in Kunshan City, Jiangsu Province, #China. pic.twitter.com/JRdNGszNuU

— John Ehrlich (@newsneighbor) August 2, 2014
BREAKING: 40 killed and 120 injured in a powerful blast in Kunshan Development Zone, Jiangsu, at 7am on August 2. pic.twitter.com/x013Kbb2jf

— People's Daily,China (@PDChina) August 2, 2014
The factory was identified as Zhongrong Plating. According to Zhongrong's website the firm employs 450 workers, and counts General Motors and other American companies as clients, reports AP.
When the explosion happened, More than 200 workers were at the site at the time of the explosion, while 40 are believed to have died immediately, CCTV reports.
— People's Daily,China (@PDChina) August 2, 2014
— People's Daily,China (@PDChina) August 2, 2014
You can share this story on social media: