Dozens killed as blasts rock open market in northwestern China (PHOTOS)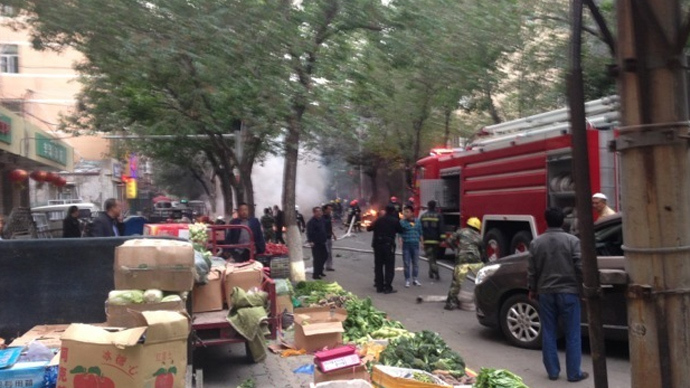 At least 31 people have been killed and more than 90 injured in a series of a dozen of explosions, which rocked the capital of China's turbulent northwestern region of Xinjiang.
The explosions occurred at around 8am on at an open market in Urumqi, capital of northwest China's Xinjiang Uygur Autonomous Region, Xinhua news agency reported.
#Xinjiang blast: Photo shows the wounded sitting on roadside after the explosion occurred near a park in Urumqi pic.twitter.com/osLGj3XK1r

— People's Daily,China (@PDChina) May 22, 2014
Witnesses reported that the blasts began when two off-road vehicles plowed into crowds of people, and explosives were thrown from them. They said that one of the vehicles had exploded in the market, while there had been some dozen explosive blasts in total.
UPDATE: Photo from Weibo user who claims to be at scene of explosion in China's Urumuqi, capital of #Xinjiangpic.twitter.com/eOjdUfXjuq

— China Xinhua News (@XHNews) May 22, 2014
The area was cordoned off with flames and heavy smoke reported at the location.
#乌鲁木齐522袭击事件 图辑 https://t.co/lz1VR16p20 … pic.twitter.com/GAfBcnIiHR

— 北风(温云超, Yunchao Wen) (@wenyunchao) May 22, 2014
The high death toll makes Thursday's attack the bloodiest in a series of violent incidents blamed on radical separatist Uygur Muslims.
Last month the restive Chinese region of Xinjiang, was the scene of a railways station attack which killed three and injured 79 people. That attack was blamed on radical religious extremists seeking to take control of the region.
— People's Daily,China (@PDChina) May 22, 2014
The day prior 39 people were sentenced to jail terms of up to 15 years on terrorism charges in the far western region of Xinjiang. The suspects, who had ethnic Uighur names, were sentenced during a rare mass public event, reports Reuters.
The charges spanned a number of crimes, including inciting violence and distributing extremist content, as well as making firearms and promoting ethnic friction.