'Send her to Gaza': Belgian doctor denies help to Jewish 90yo woman with fractured rib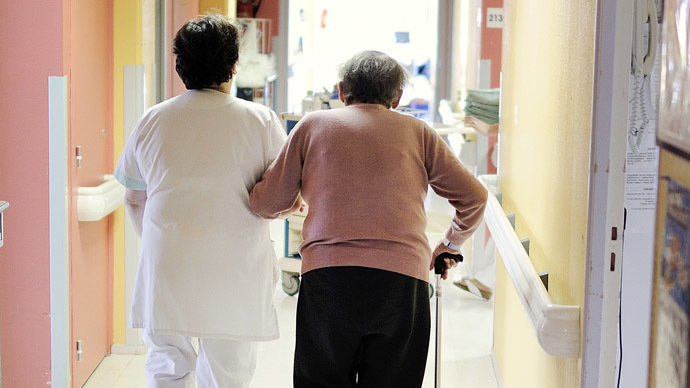 A doctor in Belgium has refused medical help to a 90-year-old Jewish woman with a fractured rib, saying that she needs to be sent to Gaza to "get rid of" the sharp pain she is suffering.
"I'm not coming," the physician said and hung up after receiving the call at 11pm Wednesday.
Bertha Klein, 90, had a fractured rib and was suffering from "agonizing pain." She had her son, an American citizen, call the doctor via Flanders medical hotline and ask for help on her behalf.
"Send her to Gaza for a few hours, then she will get rid of the pain," the doctor told the man, as he called back for clarifications, according to local Joods Actueel newspaper. The paper said that the doctor knew right away that it was a Jewish patient's name, and he heard an accent, which might have predetermined his reaction.
The family then called a friend, Samuel Markowitz, who is an alderman of the Antwerp District Council and a volunteer paramedic.
He also called back the doctor and confronted the doctor with his statements. Markowitz managed to record their conversation.
Hershy Taffel, Bertha Klein's grandson, filed a discrimination complaint with the police.
"It reminds me of what happened in Europe 70 years ago," Taffel told Joods Actueel. "I never thought those days would once again be repeated."
As Joods Actueel reached the physician, he did not deny having such a phone call. He confirmed that he did made an anti-Semitic comment and had denied the woman help, but said that he had an "emotional reaction."
Health ministry officials are looking into the incident.
Joods Actueel editor-in-chief Michael Freilich said that the incident was alarming, as it comes amid "string of incidents in a short period of time."
"This is yet another incident in a short period of time. A shop in Antwerp refused a woman to serve because she was Jewish, a café in Liège has a sign hung with the message 'Dogs welcome, Jews not,' and in Brussels slogans like "Death to the Jews" were chanted during a demonstration and on Facebook, we see calls every day of hatred against the Jewish people," Freilich said.
Anti-Semitic attacks soar across Europe
Jewish communities around the world have been facing upswing in anti-Semitic incidents, including physical assaults, firebombing of synagogues and calls for violence against Israelis, after the latest Israeli-Hamas conflict.
Jewish communities have been targeted in Germany, France and Italy in the past week. In the UK, police and community groups have recorded a 50 percent increase in anti-Semitic incidents over the past month.
You can share this story on social media: