WWI tragedy reminder of dangers of excessive ambitions - Putin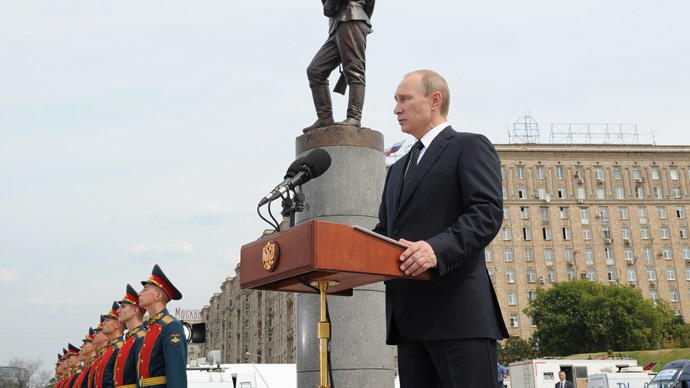 The tragedy of WWI reminds us what excessive ambitions, an unwillingness to listen to each other and violations of liberties lead to, Russia's president said. He was speaking at the opening ceremony of the memorial to the Heroes of WWI in Moscow.
According to Putin, the memorial is not only "a tribute to the great deeds," but also a warning that "this peace is fragile."
"And we have to guard peace. And remember that the most valuable thing on Earth is a peaceful and quiet life," he added.
Numerous examples in world history show "what a terrible price" is paid if human rights and liberties are violated for the sake of serving vested interests.
"Humankind should grasp one truth: violence generates violence. And the way to peace and prosperity is made up of good will and dialogue, and the memory of the lessons of the last wars."
He added that Russia stepped for strong and trusting relationships between the countries throughout the centuries.
"It was on the eve of WWI when Russia did everything possible to solve the conflict peacefully, without bloodshed, between Serbia and Austria-Hungary. But Russia wasn't heard. And it had to respond to the challenge in order to protect the [fellow] Slavic nation."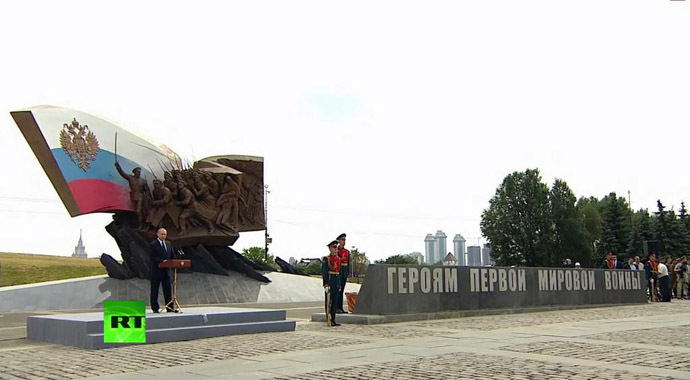 "And instead of saving the most successful continent in the world – Europe – [ambitions and aggression] are endangering it."
Putin said that a century ago "Russia had to take part in WWI and now we are opening the memorial to its heroes – Russian soldiers."
Russia is now immortalizing the historical truth of World War I, he added.
"We have numerous examples of courage … and true patriotism of Russian soldiers, the whole Russian society."
The memorial to the heroes of WWI stands in Moscow's on Poklonnaya Hill, in the city's Victory Park, one of the highest spots in the Russian capital.
It consists of two elements: a Russian soldier who fought in WWI and a composition representing the Russian flag. The soldier is shown wearing the Cross of St. George, one of Russia's highest military decorations.