​Hollande booed at French Bastille Day parade (VIDEO)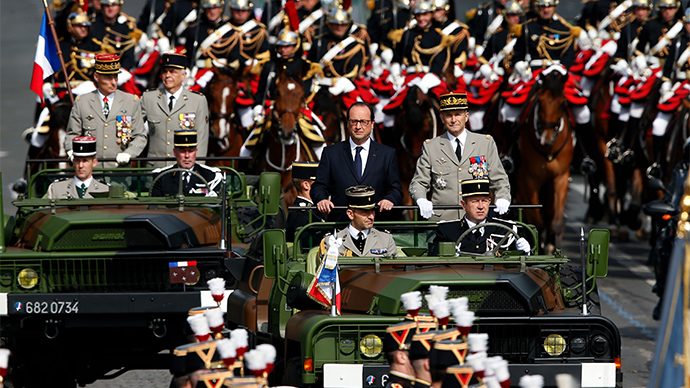 Soldiers from 76 countries marched down the Champs-Élysées in Paris to celebrate Bastille Day and pay tribute to those who lost their lives during World War I – but French President Hollande was booed by the crowd as soon as he joined the festivities.
Francois Hollande underwent "some whistles" when he arrived for the parade on Monday, RTL reported. Police made a dozen arrests, "particularly of violent spectators."
Riding in an open-roof car and accompanied by French soldiers on horseback, the president was booed along the entire procession route, as more than 3,000 policemen secured the march.
"This July 14 is not a July 14 like others," Hollande said on the eve of the parade, pointing out that a century ago "soldiers from around the world" came "to save us."
France invited all the countries that were involved in WWI – both former allies and enemies – to participate together as a symbol of peace.
Three soldiers from each of the 76 countries marched in the military uniform of their homeland, while waves of French soldiers in blue uniforms dominated the scene.
Among the international visitors were representatives of Algeria, Tunisia, Morocco, and Senegal. The parade honored the 600,000 soldiers who served alongside French colonies during the Great War.
Some members of the French extreme right spoke out against the presence of many soldiers of the former colonies, due to still vivid memories of the War of Independence that France fought in Algeria half a century ago.
The ceremony echoed the first celebration of the storming of the Bastille after the end of the war in 1919. Bastille Day itself symbolizes the storming of a prison fortress by an angry mob on July 14, 1789 – a flashpoint of the French Revolution.
Over 3,700 soldiers, 50 aircraft, 280 military vehicles, and 240 cavalry troops of the French National Guard took part in the parade.
France currently has a strong military presence in Africa, including 3,000 soldiers currently fighting extremists in North Africa's Sahel region as well as trying to curb sectarian violence in the Central African Republic.
The parade was opened on the Champs-Elysees by the passage of military aircraft, and concluded with cannon artillery. By nightfall, fireworks lit the sky over the Eiffel Tower.
You can share this story on social media: