Turkey PM slams Israel for 'Hitler-like fascism'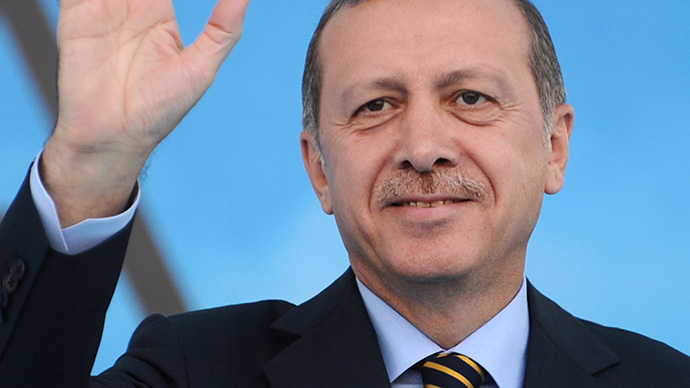 In its military campaign in Gaza and genocide against Palestinians, Israel is demonstrating a "Hitler-like fascism," Turkish Prime Minister Recep Erdogan stated in one of the strongest-worded attacks on the Israeli state.
"If you support this cruelty, this genocide, this Hitler-like fascism and child murderer regime, take your award back," Erdogan said in the eastern province of Van, referring to an award he had received from American Jewish Congress in 2004.
The organization's head, Jack Rosen, earlier this week, wrote an open letter to Erdogan asking him to return the honor as a consequence for his "dangerous rhetoric" that promotes violence against the Jewish people.
"What is the difference between Israeli actions and those of the Nazis and Hitler?" Erdogan asked the audience on Thursday. "How can you explain what the Israeli state has been doing in Gaza, Palestine, if not genocide?" he said, as reported by Arabnews. "This is racism. This is fascism. This is keeping Hitler's spirit alive."
Referring to the sanctuary given to Jews by the Ottoman Empire in the 15th century when they were banished from Spain, Erdogan wondered: "Who stood up for Jews at a time when they were expelled from their home countries? It was our ancestors, it was the Ottomans."
"Aren't you embarrassed? How immoral you are.... It is us who protects the Jews on our soil and lets them live safely."
Earlier Serdar Kılıç, Turkey's ambassador to US, responded to Rosen's request saying that "in view of the foregoing as well as the regrettable stance adopted by the present leadership of the American Jewish Congress vis-a-vis the recent attacks on the innocent civilians in Gaza, Prime Minister Erdogan will be glad to return the award given in 2004," Dailysabah quotes.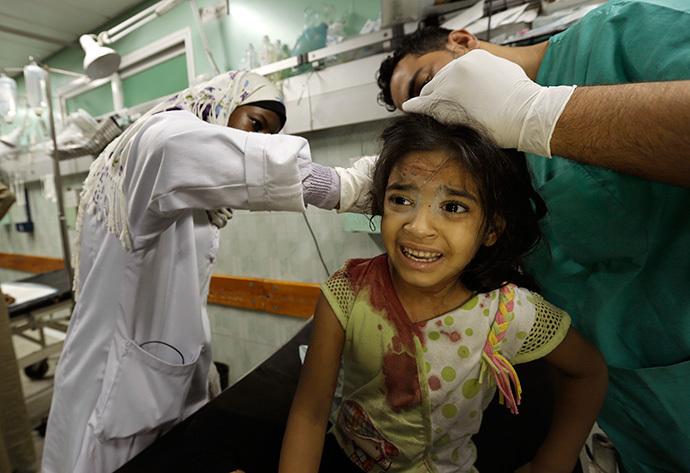 The ambassador added that Turkish PM should not be expected "to turn a blind eye" to Israeli "occupation, blockade and destruction."
In 2004, the Turkish premier received a Profile of Courage award from the New York-based American Jewish Congress for his efforts to seek peace in the Middle East.
"Attempts to depict Prime Minister Erdogan's legitimate criticisms of Israeli government attacks on civilians as expressions of anti-Semitism is an obvious distortion and an effort to cover up the historical wrongdoings of the Israeli government," the response read.
On Monday, Erdogan told the Daily Sabah that he spoke with Turkey's "Jewish citizens' leaders" and stated that they should "adopt a firm stance and release a statement against the Israeli government." He urged them to criticize "Israeli aggression," telling the community that the Israeli government "abuses all Jewish people around the world for its fraudulent policies."
It was not the first time that Erdogan resorted to harsh criticism of Israeli actions. Earlier this month while campaigning in Ordu province, he was quoted by Hurriyet Daily News as saying, "Those who condemn Hitler day and night have surpassed Hitler in barbarism…Terrorist state Israel has attacked Gaza once again, hitting innocent children who were playing on a beach."
The rhetoric of the Turkish Prime Minister in comparison of Israel's offensive in Gaza to the Nazis was "anti-Semitic in tone," the Israeli PM said earlier this month.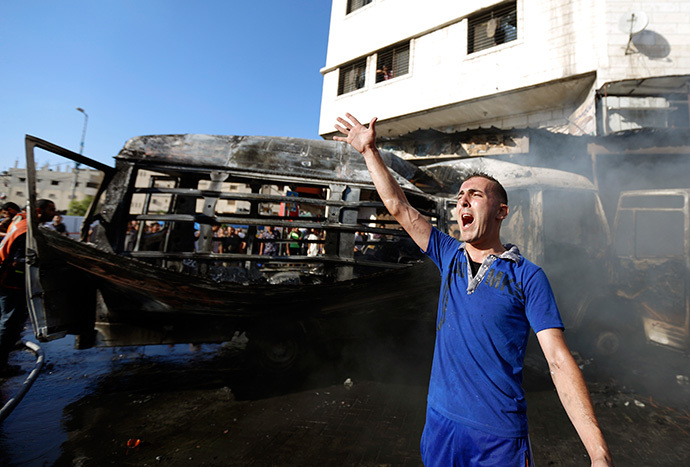 "I heard the things the prime minister of Turkey said, words of the utmost gravity," Benjamin Netanyahu said. "I told [US Secretary of State] John Kerry, [these are] anti-Semitic statements, they have an anti-Semitic tone."
Public opinion in Turkey seems to have been fueled by Erdogan's anti-Israeli statements. This month, Tel Aviv decided to reduce its diplomatic delegation in Turkey to the "minimum required" after violent pro-Palestinian protests at the Israeli diplomatic missions in Turkey were dispersed by police using tear gas.
The Israeli Foreign Ministry blamed the Turkish authorities for failing to provide protection for its diplomatic staff, calling it a "blatant breach of diplomatic regulations." It also said that envoys' families are being repatriated in light of the violence caused by the Israeli military operation in Gaza. The Foreign Ministry also advised Israelis against "non-essential" travel to Turkey.
Read More:Israel reduces diplomatic staff in Turkey following violent pro-Palestinian protests
Relations between Israel and Turkey hit a low note with Erdogan heading the Turkish government. Most notably, the relations deteriorated after the 2008–09 Gaza War and the 2010 Gaza flotilla raid, in which eight Turkish nationals were killed as the ship tried to penetrate Israeli blockade of Gaza. In March 2013, Israel apologized for the incident.
The presidential election in Turkey is scheduled to take place on August 10. The two other main presidential contenders Ekmeleddin İhsanoğlu and Selahattin Demirtaş have condemned Israel but have restrained their language.
You can share this story on social media: