​Gaza 'miracle baby', born after mother's death, dies of complications amid power cuts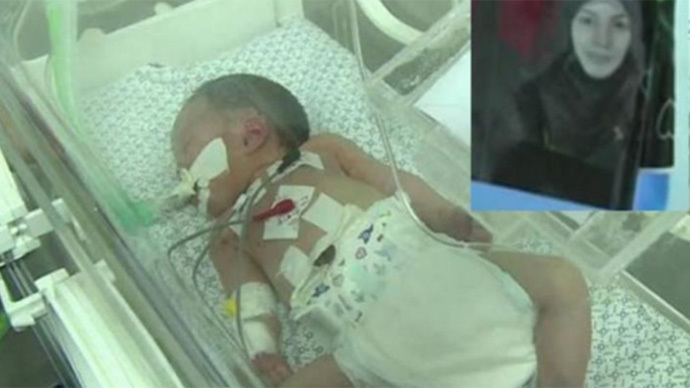 The Gazan 'miracle baby' who was saved from her killed mother's womb has died in an incubator in a hospital, suffering from power shortages inflicted by Israeli strikes. Hospitals now hope that a brief truce will ease the humanitarian disaster in Gaza.
The world continues to mourn the death of the Gazan "miracle baby", who died in an incubator in a hospital that is suffering from power shortages inflicted by the IDF bombardment.
Prematurely delivered from the womb of her dead mother, the "miracle baby" Shayma died in Khan Yunis hospital in southern Gaza after five days of fighting to stay alive. She died in an intensive care unit which suffered blackouts after Israeli shelling knocked out Gaza's only power station.
Can one sleep when #Shaima n other #childrenofGaza comes in mind? Oh listener of all whispers plz do listen to their sighs too #Gaza

— Urooj Raza (@Uroojsayyami) July 31, 2014
Dr Fadi Al-Khrote, one of the doctors who saved the baby, told Al-Jazeera that Shayma's mother, 23-year-old Shayma al-Sheikh Qanan, had been clinically dead for ten minutes before the surgery to save the baby finished. The child was a "miracle", he said, as the baby was deprived of oxygen for some time.
Malgré tous vos prières, #israel continues de massacrer des enfants, des bébés. Super efficace comme méthode #Shaimapic.twitter.com/wcfp8h57CB

— ٢٩ ٠٦ ١٣ AbuÂbida (@Djazairi1323) July 31, 2014
"The baby suffered an oxygen deficiency in the womb after her mother's heart stopped," Dr Abdel Karem al-Bawab, head of the maternity ward at Nasser hospital, told AFP Thursday, adding that Shayma was connected to a respirator in the maternity ward.
"This deficiency caused the baby to asphyxiate unexpectedly, rendering her brain dead," he said of the tragedy, which struck this Wednesday.
"The ongoing electricity shortages played a role because her oxygen tubes did not work properly and we had to resuscitate her more than once manually."
#Shaima#Shaima#Shaima#Shaima#Shaima#Shaima#Shaima#Shaima#Shaima#Shaima You did your bit & we all let you down sweet baby girl

— GazaUnderAttack (@nualajane) July 30, 2014
Shayma was rescued by doctors on Saturday, after her mother and father were killed in an airstrike that destroyed their house in the town of Deir al-Bala. Earlier this week Doctors told AFP that she was stable but had to remain on a respirator for "at least three more weeks."
#Shaima - Her mother was pregnant with her when she was killed. But she made it out of the womb alive. #Gazapic.twitter.com/gAN8WIdJ3O

— JOIN US ░▒▓███ ➽ ♻ ▲ (@Join____Us) July 26, 2014
At the time of the "miracle" Shayma's grandmother Mirfat Qanan said it was a tragedy to lose her daughter.
"My daughter Shimah is dead, but I now have a new daughter," she said as quoted by the Metro. Now Mirfat is battling a new tragedy, just like thousands of other Palestinian families suffering from IDF operation "Protective Edge" that has ravaged the Strip for 24 days.
Hundreds of Twitter users continue to comment on Shayma's death, mainly blaming Shayma's death on the lack of power caused by Israeli force.
I am so upset with #Shaima's story. She represented the hope that #Gaza people would be ok at the end. But Isreal killed her too.

— Kosko Ryma (@Koskoryma) July 31, 2014
Tiny Shaima'a, saved from the body of her dead mother, has died. Israel bombed electrical plant, so no incubator. pic.twitter.com/bHvsfBaoYH

— Siusaidh Chaimbeul (@Zaganashikwe) July 30, 2014
Shayma's death, who according to reports was buried next to her mother, follows Tuesday's destruction of Gaza's only power plant leaving many of the Palestinian territory's 1.8 million people without electricity.
Israeli indiscriminate shelling has brought world criticism as the death toll soars in the Gaza Strip.
A spokesman for the United Nations Relief and Works Agency (UNRWA), could not contain his tears during a TV interview in the aftermath of Wednesday's fatal attack on a UN-run school, used as a shelter. Twenty people were reportedly killed after a shell hit the UNRWA school in Jabalia, Gaza, where 3,300 people had been taking refuge.
Ban Ki-moon condemns #Gaza school attack, demands accountability & justice. More updates: http://t.co/WiohNZsvZ5pic.twitter.com/GmsI1KHYyc

— United Nations (@UN) July 31, 2014
After 24 days of the IDF's mission, according to the Palestinian Ministry of Health, the new death toll stands at no less than 1,437 people, Maan reports. On Thursday, 79 Palestinians were killed and 350 injured, health ministry spokesman al-Qidra said in a statement. The toll of those injured now stands at 8,265 people. Twenty-nine medical facilities including thirteen hospitals have been damaged by Israeli attacks, the ministry said.
Meanwhile Prime Minister Benjamin Netanyahu announced earlier on Thursday the IDF will complete the destruction of Hamas, no matter what.
"We are determined to complete this mission with or without a ceasefire," Netanyahu said at the start of a cabinet meeting in Tel Aviv. "I won't agree to any proposal that will not enable the Israeli military to complete this important task for the sake of Israel's security."
"Hamas has taken harsh blows from the IDF and ISA," he said. "We have struck hard at thousands of terrorist targets: command centers, rocket arsenals, production facilities, launch areas and hundreds of terrorists have been killed."
#Gaza situation is extreme: UN officials http://t.co/7F25EKTBGk via @PressTV#GazaUnderAttackpic.twitter.com/9NT2p4NDLL

— ISM Palestine (@ISMPalestine) July 31, 2014
Later on Thursday US and UN officials announced that Israel and Hamas had agreed to unconditionally begin a 72-hour humanitarian ceasefire in the embattled Gaza Strip.
Meanwhile Gaza hospitals report constant power shortages and poor working conditions. Doctors are claiming that they cannot cope with patient inflow. People are being treated in the hallways.
Yusuf Abu Rish, the Undersecretary of the Ministry of Health for Palestine has called the situation in Gaza a "humanitarian disaster".
He says constant shelling is "threatening the hospitals in the Gaza Strip, which receive hundreds of wounded daily in light of the ongoing Israeli war," Arabic Ahram online quotes. "Hospitals are already suffering from an acute shortage of fuel, generators. We are facing a human tragedy that threatens the lives of thousands of patients," Rish was quoted earlier as saying.
Doctors hope that the announced ceasefire that starts at 05:00 GMT on Friday will provide some relief for the suffering patients.