​Russia's food import ban sparks online frenzy in Poland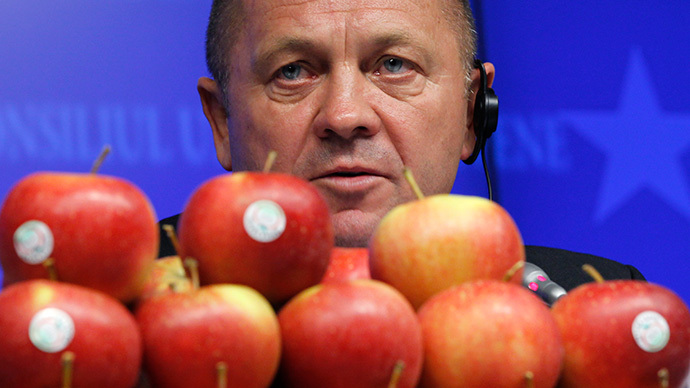 Poles have launched a social media campaign mocking Russia's ban on Polish fruit and vegetables starting August. People have been posting various photos of themselves eating apples, as Poland is Europe's largest producer of apples.
Russia will ban Polish vegetables and fruit from August over the breach of food safety standards, according to the country's agricultural watchdog, Rosselkhoznadzor.
The ban will fall on apples, pears, quince, cherry, sweet cherry and cabbage, as well as peaches, nectarines, plums and black thorns - basically all fresh-refrigerated vegetables that are exported from Poland to Russia.
Als Dank für den Support Polens für #Ukraine sollten wir morgen alle mal ein paar polnische Äpfel kaufen #jedzjabłkapic.twitter.com/vSjfoQOEWO

— Euromaidan Deutsch (@EuromaidanGER) July 31, 2014
Poland is Europe's largest producer of apples and biggest supplier to the Russian market accounting for 50 percent of apple imports.
In support of domestic apple producers social media users have launched a campaign under the hashtag #jedzjablka — Polish for "eat apples." Hundreds of photos with the tag have appeared since Wednesday on Twitter mocking Russia's ban. Some suggested that half of Warsaw, Poland's capital, will be drunk from cider this weekend.
Russia's health watchdog explained that Poland breached certification requirements as the presence of harmful organisms was found in Polish imports.
Rosselkhoznadzor said it has registered 27 instances of finding two harmful organisms in Polish imports since the start of 2014.
Jabłka przeciw Putinowi - w formie stałej i płynnej ;) @puls_biznesu@GoralewskiM#jedzjabłkapic.twitter.com/wQuHIJnSx9

— Robert Gwiazdowski (@RGwiazdowski) July 30, 2014
The products also pose a threat to human health due to excessive concentrations of pesticide residue levels and the presence of nitrates, the watchdog added. Excessive pesticide levels were found in 90% of all Polish apples inspected by the body.
No to prosze @Barankiewicz Jedz jabłka, postaw się Putinowi. #jedzjablka Przeczytaj i dołącz http://t.co/EsaY7ctIyKpic.twitter.com/8fWOnoJZHI

— Marcin Goralewski (@GoralewskiM) July 30, 2014
Postaw się Putinowi - jedz jabłka i pij cydr http://t.co/HtYCY8Sf1e dołącz do akcji i wrzuć zdjęcie z #jedzjabłkapic.twitter.com/cVFl79aFIp

— Grzegorz Nawacki (@nawacki) July 30, 2014
The ban came as a surprise. On Thursday, Poland's Agriculture Minister Marek Sawicki asked the EU Commission for financial compensation domestic producers are expected to suffer because of the ban.
Polish officials presumed that the restrictive measures were introduced because Poland supported EU sanctions on Russia over the Ukrainian crisis.
@gazeta_wyborcza@wyborcza_biz w akcji #jedzjabłka.Gryzą: A.Sobczak z gospo i wicenaczelny P.Stasiński @puls_biznesupic.twitter.com/RVvLv2XWhy

— Michał A. Zieliński (@zielax) July 30, 2014
:D #Russia#sanctions#Poland#jedzjabłkapic.twitter.com/y8KtrPijCS

— Wojciech Jakóbik (@wjakobik) July 31, 2014
An apple a day keeps Mr. Putin away. #JedzJablkapic.twitter.com/r2BpvAlK5Q

— Krzysztof Jakubowski (@JakubowskiKrzy) July 31, 2014
On Thursday Russia also announced it would ban the import of Ukrainian soy products, cornmeal and sunflowers on top of bans on dairy products and canned foods Moscow recently imposed.
#Ukraiński#Dyplomaci wzieli udzial w akcji wspierającej #polskie#owoce#JedzJablka RT pic.twitter.com/Jq76H6chjd

— Посольство України (@UkrEmbassyPL) July 31, 2014
Sandi dołącza do akcji #jedzjablka ;) pic.twitter.com/vDvnyyu5fi

— Jacek Pilch (@PilchJacek) July 30, 2014
In addition Rosselkhoznadzor said it was considering imposing a ban on imports of plant products from the EU because of the pests regularly found in such products.
"Recent cases indicate that the European system of quarantine security does not work," Sergey Dankvert, the Rosselkhoznadzor head, told ITAR-TASS.
The watchdog plans to organize consultations with EU health services over the issue, Dankvert added.
READ MORE:Some antibiotics with your Сheeseburger? Russia regulator probes McDonald's
You can share this story on social media: