'Radical action required': Drug-resistant malaria spreads in Asia, Africa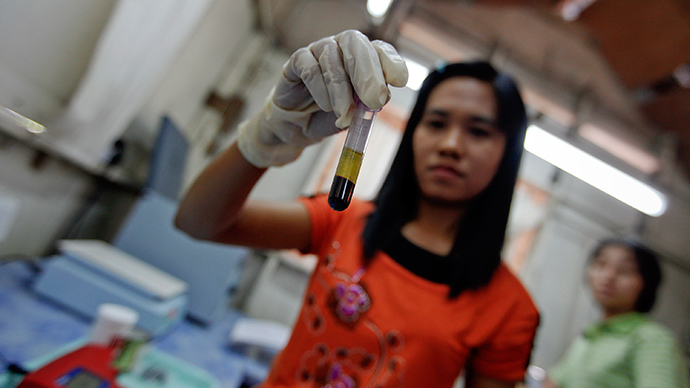 Drug-resistant malaria is dangerously spreading in South-East Asia, according to a recent study. "Radical action" is needed to prevent it from spreading further, the researchers say.
The study was carried out by the New England Journal of Medicine, and founded by the UK Department of International Development.
In the study, blood samples from 1,241 malaria patients in 10 countries at 15 trial sites in Asia and Africa.
Resistance was noticed in central Burma, southern Laos, and north-eastern Cambodia. In particular, the Cambodia-Thailand border was indicated as risky.
No evidence of resistance was found in Africa.
"It may still be possible to prevent the spread of artemisinin-resistant malaria parasites across Asia and then to Africa by eliminating them, but that window of opportunity is closing fast," Professor Nicholas White, who led the research, told Reuters. Artemisinins are the frontline drugs for the disease.
"It's worse than we expected. We have to act quickly if we are going to do anything," he added.
Conventional malaria-control approaches would not be enough, Professor White stated.
"We will need to take more radical action and make this a global public health priority, without delay," he said.
Elizabeth Ashley, a clinical researcher at the Mahidol Oxford Tropical Medicine Research Unit, who worked with White, told Reuters that until new drugs come to market, artemisinin medicines and resistance to them need to be monitored carefully.
"The artemisinin drugs are arguably the best antimalarials we have ever had. We need to conserve them in areas where they are still working well," she said.
Over half the world's population is at risk of malaria infection, and currently the disease kills more than 600,000 people each year.
It's not the first time that the drug-resistant malaria has threatened the world.
From the 1950s to 1970s, chloroquine-based treatment was used to battle malaria. However, parasites resistant to the vaccine appeared in Asia and Africa which triggered a deadly outbreak of the disease and caused millions of deaths.
Consequently, sulphadoxine-pyrimethamine (SP) treatment was used, but the disease showed resistance to it in western Cambodia and then in Africa.
SP was followed by artemisinin combination treatment, or ACT, which is currently used – but due to present concerns, there is a looming need to change the treatment, Reuters reported.
Last year, the World Health Organization said that four countries in Southeast Asia had demonstrated artemisinin resistance in 2013, and 64 countries found evidence of insecticide resistance.
New antimalarial drugs like a once-a-day medicine from Swiss drug giant Novartis and a vaccine from the UK's GlaxoSmithKline are currently being developed.
However, they aren't set to be in widespread use for at least a few years.