​Malaria returns to Greece as austerity wreaks havoc on healthcare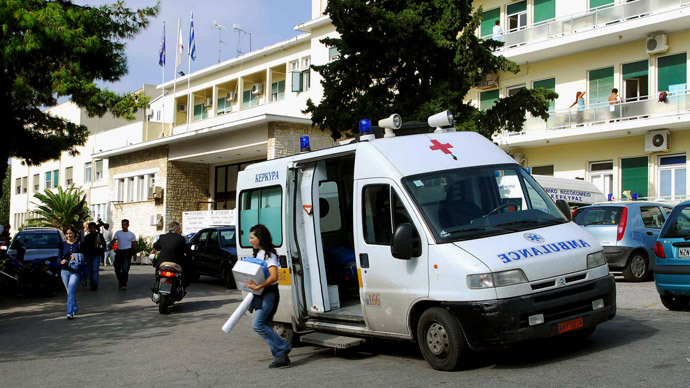 Tough austerity measures imposed by the Greek government have inflicted major damage to the health of the Greek population, leaving nearly one million of the country's most vulnerable people without access to healthcare.
As a result of a six percent cap on health spending imposed by the so-called Troika as part of austerity measures forced on the country, the Greek public hospital budget was cut by 25 percent between 2009 and 2011, according to a report by academics and doctors from Oxford, Cambridge, and the London School of Hygiene and Tropical Medicine (LSHTM) which was published in The Lancet medical journal.
The Troika, which consists of the European Commission, the European Central Bank, and the International Monetary Fund, forced Greece to make huge cuts to government expenditure in return for two bailout packages totaling 240 billion euros (US$329 billion).
Unemployment in Greece has more than tripled from 7.7 percent in 2008 to 24.3 percent in 2012, while long-term unemployment has reached 14.4 percent. In a country where health insurance is linked to employment, an estimated 800,000 have been left without access to health services.
This has prompted international humanitarian organizations, such as Medecins du Mond, and community clinics run by volunteers to step in to fill the gap. Before the crisis, such services were mostly for immigrant populations.
One such clinic is the Metropolitan Community Clinic at Helliniko in Athens, which was set up in December 2011. It is run by volunteer doctors and is completely funded by donations, including all medicines. It provides free healthcare for people without health insurance.
"The healthcare situation in Greece is, unfortunately, dramatic. We have helped more than 4,400 patients in 26 months. We look after more than 300 children below the age of three," Co-founder Christos Sideris told The Independent.
The problem of reduced state healthcare is worse in rural areas, where shortages of medicines and medical equipment are more pronounced.
Some areas have been harder hit than others. Prevention and treatment programs for intravenous drug users have taken a hammering, with one-third of street programs closed between 2009-10.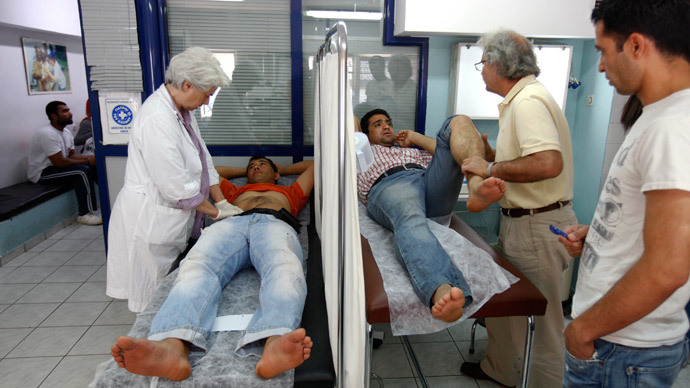 This has led to a dramatic drop in the number of syringes and condoms given to known drug users and therefore has directly led to a spike in HIV infections from 15 in 2009 to 484 in 2012, the report said.
Infectious disease prevention programs have been rolled back, leading to a resurgence of once rare diseases, including Malaria, which has returned to Greece for the first time in 40 years as the government can no longer afford mosquito-spraying programs.
The Greek National School of Public Health reported a 21 percent rise in still births between 2008 and 2011. Infant mortality rose by 43 percent between 2008 and 2010 as a direct consequence of reduced access to prenatal services.
Mental health services have also taken a battering. Public and non-profit metal health service providers have scaled back operations and the development of child psychiatric services has been completely abandoned. State funding for mental health decreased by 20 percent between 2010 and 2011 and by another 55 percent between 2007 and 2011.
The suicide rate subsequently increased by 45 percent between 2007 and 2011, and the prevalence of major depression increased by 2.5 times over the same period. Increased economic hardship is an indirect factor in deteriorating mental health, according to the report's authors.
There are also a number of hidden healthcare barriers and unmet healthcare needs which lead to an overall decline of the population's health. For example, fees for prescriptions were introduced and charges for outpatient visits to the hospital were raised from 3 euros to 5 euros.
As a result of the general economic and social deterioration, the proportion of children at risk of poverty has increased from 28.2 percent in 2007 to 30.4 percent in 2011. A growing number of children are receiving inadequate nutrition.
Living in denial
The study's authors say that Greek government officials, as well as sympathetic commentators, have argued that deep spending cuts and wide-ranging changes have not damaged the health of the Greek population. However, they noted that such parties are guilty of denial.
"However, the scientific literature presents a different picture. In view of this detailed body of evidence of the harmful effects of austerity on health, the failure of public recognition of the issue by successive Greek governments and international agencies is remarkable," the authors wrote.
They concluded by giving the examples of Finland and Iceland. Both countries were hit hard by the financial crisis and had to implement tough austerity measures. However, they chose to steer away from their health and social budgets, instead concentrating on cuts elsewhere.
Alexander Kentikelenis, a researcher in sociology at the University of Cambridge and the report's lead author, warned of long-term damage to the health of the Greek population.
"What's happening to vulnerable groups in Greece is quite shocking. Its quite straightforward to measure what has happened, it's much harder to quantify the long term health implications for the long term unemployed and uninsured, leaving health problems to get out of hand ends up costing much more in the long run," he told The Independent.
You can share this story on social media: