Over 30 civilians killed during two days of shelling in Gorlovka, E. Ukraine (VIDEO)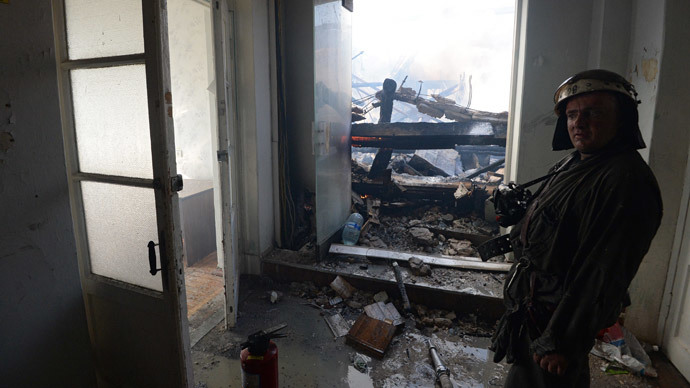 Two days of shelling in Gorlovka, in the Donetsk region of Eastern Ukraine, have resulted in 31 civilians being killed there, local authorities say. Ukrainian troops and anti-government forces are blaming each other for the bloodshed.
Ukraine civil war death toll 1,100, over 3,500 wounded - UN
The town of Gorlovka witnessed more shelling Tuesday morning, RIA Novosti news agency reported.
"Over the past 24 hours 17 residents of Gorlovka, including three children, have been killed in the center of the town, which got under artillery fire. 43 civilians have been wounded," Itar-Tass reported the press service of the Gorlovka city administration as saying.
A day earlier, the Donetsk region administration said that 14 civilians, including five children, had being killed in Sunday's shelling of Gorlovka.
Survivors of the attacks say they've gotten accustomed to spending most of their day hiding in basements.
"People have moved here with children, families," a crying woman in one of such hideouts told RT's Ruptly video agency. "It usually starts in the evening – from eight to twelve. Sometimes it just goes on around the clock."
Several videos showing the destruction inflicted by the shelling in Gorlovka have emerged online. One of them shows a missile that almost hit a playground next to a church.
Some church buildings were damaged in Monday's shelling as well.
Kiev shells Ukraine Orthodox Church compound in Gorlovka
A video titled, 'Consequences of the morning shelling of Gorlovka' features a destroyed shop in Gorlovka's Stroitelei residential area.
"Fear and chill inside," YouTube user Nina Zorkina said. "I was near that shop half an hour before the strike. That's a residential area, no 'terrorists' here."
The self-defense forces say the shelling comes from areas that have for several days been under the control of Ukrainian troops, and that Grad missiles have been used in the attacks.
The Ukrainian Security Council claims the anti-government forces are responsible for the attacks.
Meanwhile, local residents have been crowding at bus stations trying to get away from the city under fire. Residents say free bus services from the town have been laid on, but there aren't enough for everyone wanting to leave.
Ukraine's military operation in the east of the country has intensified lately.
The army claimed Monday they entered several towns in the Donetsk region, including Shakhtyorsk and Torez, but local militias say both towns remain under their control.
You can share this story on social media: