The Right to Resist: 5,000 rally for Palestine in Brussels, Israel gets 500
Published time: 28 Jul, 2014 12:04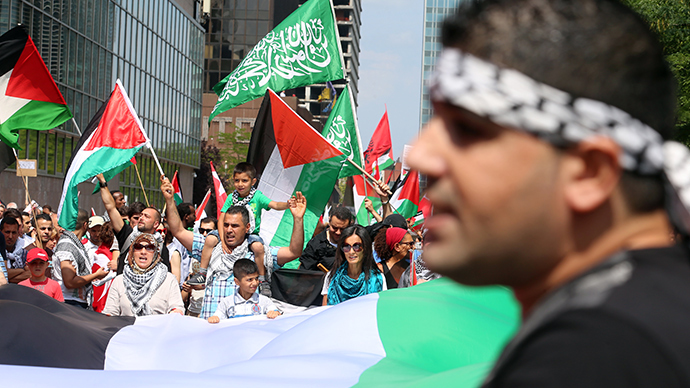 Thousands took to the streets of Brussels to support Gaza. Police intervened as radical youths assaulted officers and vandalized property. At the same time, hundreds gathered near the Israeli embassy in favor of the Jewish state.
Around 5,000 people gathered in the Belgian capital to protest Israel's attacks on Gaza, according to the city police spokesman, Christian De Coninck.
The rally was staged by the platform Emergency Gaza, which includes various associations, NGOs and trade unions.
The demonstrators demanded an end to the Israeli-inflicted violence that has left over a 1,000 Palestinians dead so far.
However, police had to intervene, as around a hundred young people heading the procession attacked cars, burnt an Israeli flag and threw stones.
A young man even jumped on the satellite truck of the VRT broadcasting company, and fell when the driver of the vehicle accelerated, Belgian media outlet DH reported.
About a dozen people were arrested at the scene, according to Le Figaro.
"An occupied people, placed under blockade by the invader, has the right to resist," Pierre Galand, President of ABP (Belgo-Palestinian Association) at the initiative of the Russell Tribunal on Palestine, said, as quoted by local outlet Le Vif.
Galand also noted that 1.8 million people are imprisoned in Gaza on only 360 square kilometers.
Michel Staszewski, Representative of the Union of Progressive Jews of Belgium, stated at the pro-Gaza rally that the current situation is "a policy of war crimes that many Jewish organizations support or excuse under the pretext of Israel's security."
Meanwhile, about 500 people came to the Israeli embassy to express their support of the Jewish state, according to police estimates.
Demonstrators waved Israeli and Belgian flags, and there were many families, teenagers and seniors among them.
Police established special cordons for identity checks, and less than a dozen people were detained.
"The Gazan population is not our enemy. You here manage to understand who is really responsible for this conflict," Jacques Revah, Israel's ambassador to Belgium, said.
Candles were lit in honor of the 43 Israelis killed. The conflict has been going on for almost three weeks, and has seen over 1,000 people in Gaza killed in the Israeli strikes.