Human rights ad listing dead Gaza children barred from Israeli radio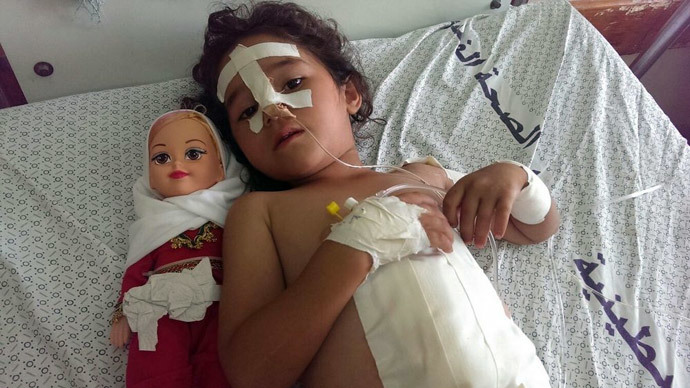 Pro-Palestinian human rights group B'Tselem is lodging an appeal to the top Israeli court, after its paid-for announcement – which was simply a list of killed Palestinian youths – was rejected by Israel's media regulator for being too "political".
Follow RT's LIVE UPDATES on Israeli ground operation in Gaza
"IBA (Israeli Broadcasting Authority) says broadcasting the children's names is politically controversial. But refusing to do so is in itself a far-reaching statement – it says the huge price being paid by civilians in Gaza, many of them children, must be censored," said a statement from B'Tselem.
"Is it controversial that the children [aren't] alive? That they're children? That those are their names? These are facts that we wish to bring to the public's knowledge."
More than 150 Palestinian children have been killed over the past week as the IDF ramped up its Operation Protective Edge, intended to nullify Hamas' ability to launch rockets into Israeli territory.
B'Tselem, which is based in Jerusalem but has repeatedly accused the Jewish state of "occupation" and "apartheid," said it wanted to "encourage public debate" about the human cost of the conflict, because "Israeli media is barely covering the story."
The human rights group said that when its ad was presented, it was told that the names of the dead "belong in newscasts." The organization replied that the names were not being allowed to be publicized there either, adding to a "circular" reasoning where facts are "silenced."
B'Tselem says it plans to take its appeal against the decision to the High Court of Justice on Sunday, after its initial legal challenge was rejected.
The group, which is staffed by prominent Israeli left-wingers but receives the majority of its funding from Europe, is well-known for its provocative campaigns inside the country. Its previous controversy was only last month, when it started its 'Hitching a Ride' campaign which accused Prime Minister Benjamin Netanyahu of taking advantage of the deaths of three Jewish hitchhikers, which sparked the conflict with Palestine. The name and imagery of the campaign was criticized by the establishment as being insensitive to the families of the victims.
You can share this story on social media: