Putin: West should demand Kiev obey ceasefire during plane crash probe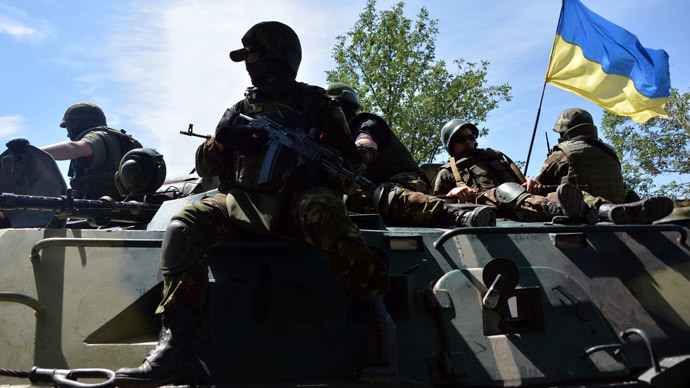 Russian President Vladimir Putin believes it is necessary to call on Kiev to observe the ceasefire, which should last while investigations into the MH17 crash are ongoing.
Ukraine air force strikes 30km from plane crash site despite ban - reports
Putin said that Ukrainian troops attacked self-defense units near Donetsk almost at the same time anti-government forces were handing over the black boxes from the MH17 crash to international experts.
"Tanks broke through to the railway station," Putin said at the Russian Security Council session on Tuesday. "It was shelled. The international experts there could not even look out of the windows."
Kiev forces attack city of Donetsk, civilian casualties reported
The Russian president said Moscow will do everything it can to facilitate the crash investigation, including trying to influence the anti-government forces in eastern Ukraine.
"They call on us to exert pressure on the self-defense forces of the south-east [of Ukraine.] We'll do everything that we are capable of," Putin said.
"Russia will do all it can to ensure a full-scale, thorough and transparent investigation," he added.
Putin believes the West must appeal to Kiev to honor its ceasefire pledge.
"We have to finally call on the Kiev authorities to comply with the common norms of decency and introduce a ceasefire, even if only for a short period of time, while the investigation goes on."
On Tuesday, the RIA Novosti news agency reported that the Ukrainian military carried out an attack 30 kilometers from the Malaysian plane crash site, despite the 40-kilometer ceasefire zone, set up by Ukrainian President Petro Poroshenko a day earlier.
Ukrainian military planes, presumably Su-25s, were also spotted over the ceasefire area.
Russia's foreign ministry said in a Tuesday statement that it believed "stopping all military activity around the area where the plane crashed, as well as all over eastern Ukraine would prevent such tragedies from happening again and would save civilians' lives."
The ministry also said it was following the investigation of the crash and was happy that self-defense fighters had handed over the plane's black boxes to Malaysian experts.
"We hope that they will eventually be sent to an international group of experts, headed by the ICAO (International Civil Aviation Organization). Russia is ready to take part in working with that group," the statement reads.
The Foreign Ministry also mentioned that transportation of the bodies of victims to the Netherlands has begun. This will, Russian diplomats believe, facilitate impartial investigation into what caused the catastrophe.
On Tuesday, a train with five refrigerated wagons containing 200 body bags arrived in the Ukrainian city of Kharkov from the area controlled by anti-government fighters.
The Dutch Prime Minister Mark Rutte announced the first plane carrying the bodies of victims of the Malaysian Airlines Boeing 777 crash in Ukraine would arrive in the Netherlands on Wednesday.
You can share this story on social media: