'Kiev will have to answer many questions' as UN urges intl MH17 crash probe – Moscow
The UN Security Council has condemned the downing of Malaysia Airlines flight MH17 over Ukraine and called for an international probe into the incident in a unanimously adopted resolution.
All 15-member states voted to pass the Australia-proposed resolution, condemning "in the strongest terms" the crash of Malaysian plane on July 17 in Donetsk region of Ukraine, which resulted in 298 people dead.
Follow Malaysia Airlines MH17 plane crash in Ukraine LIVE UPDATES
The UN also urged a "full, thorough and independent international investigation" into the incident. The resolution also asked local self-defense forces for their cooperation, such as avoiding "from any actions that may compromise the integrity of the crash site."
Russia's UN ambassador, Vitaly Churkin, said he was pleased that the International Civil Aviation Organization (ICAO) will have an important role during the investigation and welcomed that fact that the Netherlands will take on the leading role as well.
"We could not simply allow the Security Council to endorse a Ukrainian-led investigation because we have no trust in their intention to conduct a truly objective investigation," Churkin told reporters following the resolution.
Security Council condemns downing of Malaysian airliner, calls for international probe http://t.co/KD9mD8nR5z@UNpic.twitter.com/h9TqGCoDTw

— UN News Centre (@UN_News_Centre) July 21, 2014
Ukraine will have to answer a lot of questions during the international investigation, Churkin said during his speech at the UN Security Council, adding that Kiev spread fake information allegedly connecting the self-defense forces to the downing of the plane.
"Throughout the investigation Ukraine would have to answer many questions: about the actions of its air traffic controllers, the reasons for the movement of one of the Ukrainian Buk missile systems on July 17 right next to the area controlled by the militias. Why this missile defense system was moved immediately after the airplane crash? Why on July 17 Ukrainian air defense radar worked at the maximum intensity?" Churkin said.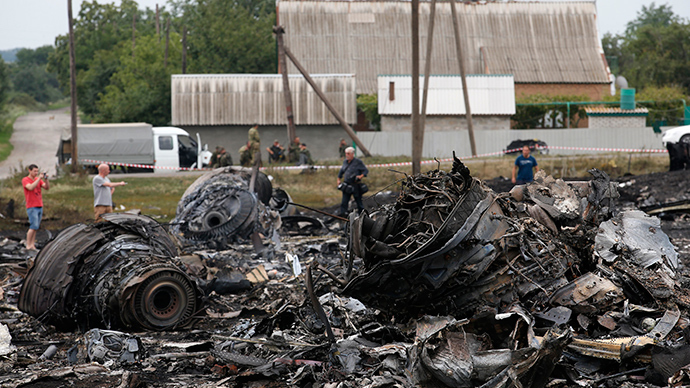 Australian Foreign Minister Julie Bishop told the Security Council that the resolution is an "unambiguous response from the international community to an utterly deplorable act."
She also encouraged Russia to use its influence in the area to make sure self-defense forces comply with the UN's request for cooperation.
The Netherlands agreed with Australia. "I hope that Russia will now feel its responsibility, act on its responsibility. If it doesn't, it's going to have an increasingly isolated position in the international world," said Dutch Foreign Minister Frans Timmermans, who traveled to New York for the Security Council meeting.
Russian President Vladimir Putin discussed the logistics of the international investigation into the downing of the Malaysian plane with the Netherlands' Prime Minister Mark Rutte during a telephone conversation, according to a Kremlin statement published early on Tuesday. Both leaders praised the adopted resolution by the UN Security Council to investigate the crash.
You can share this story on social media: