Electric Aliens? Bacteria discovered that exist on pure energy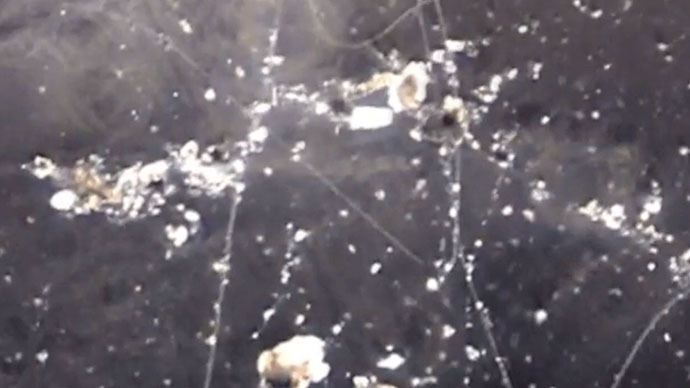 Microbiologists based in California have discovered bacteria that survive by eating pure electrons rather than food, bringing an entirely new method of existence to awareness and raising questions about possibilities for alien life.
The 'electric bacteria' – as they have been dubbed by the team that discovered them – take energy from rocks and metal by feasting directly on their electrons. The hair-like filaments the bacteria produce carry electrons between the cells and their environment.

The biologists from the University of Southern California (USC) found that the new discovery joins more than ten other different specific type of bacteria that also feed on electricity – although none in quite the same way.

"This is huge. What it means is that there's a whole part of the microbial world that we don't know about," Kenneth Nealson of USC told New Scientist.

Nealson explained the process by which the bacteria function. "You eat sugars that have excess electrons, and you breathe in oxygen that willingly takes them," he said. Human cells break down the sugars in order to obtain the electrons – making the bacteria that only absorb the electrons that much more efficient.

"That's the way we make all our energy and it's the same for every organism on this planet," Nealson said. "Electrons must flow in order for energy to be gained."

Some of the bacteria even have the ability to make 'bio-cables' – a kind of microbial collection of wires that can conduct electricity as well as copper – renowned for its high electrical conductivity.

Such 'nanowires' were first discovered in a separate study conducted by researchers at Aarhus University in Denmark. Their presence raises the possibility that one day bacteria could be used in making subsurface networks for people to use.

"Tens of thousands of bacteria can join to form a cable that can carry electrons over several centimeters," the New Scientist video on the subject points out.

Nealson and his team discovered the bacteria by taking ocean sediment, and placing electrodes in it in the laboratory. As higher voltages were pumped into the water, the bacteria started to consume electrons from it.

When a lower voltage was pumped into the water the bacteria emitted electrons, making an electric current. The scientists carefully cut off all other possible nutrition sources for the bacteria. Nealson compared their method of survival to a human attempting to power up by sticking their finger in a DC electrical socket instead of eating.

Two of the most well-known bacteria which have 'electrical' properties already' include the marine bacteria Shewanella and Geobacter – some species of which can metabolize certain collections of chemicals, producing electrons in the process, leading some scientists to theorize that a sort of natural battery could be created using it.

Last month, at the Goldschmidt geoscience conference in Sacramento, California, results were presented.

Nealson's PhD student Annette Rowe has identified some eight different kinds of the bacteria.

NASA has also expressed interest in the "dark energy biosphere" – microorganisms lurking beneath the seabed – because they survive on such little energy that their means of living could theoretically be used by other beings living in other areas of the solar system.

"If nothing is going to eat it or destroy it then, theoretically, we should be able to maintain that organism indefinitely," Yuri Gorby, a microbiologist at the Rensselaer Polytechnic Institute in Troy, New York, speculated.
You can share this story on social media: