Child rescued from debris following Ukraine airstrike on residential building (VIDEO)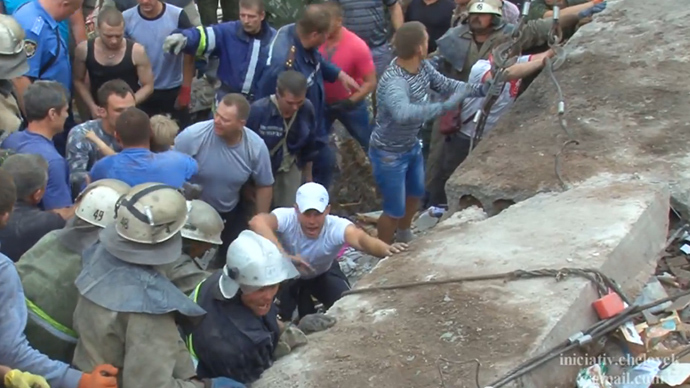 Amid scenes of destruction and death caused by Ukrainian airstrike on residential buildings in the city of Snezhnoe in the breakaway Donetsk People's Republic, a 7-year-old child has been miraculously saved from beneath a multi-ton pile of debris.
READ MORE: Kiev aircraft fire missiles at apartment block in E. Ukraine, 11 dead
Eyewitness rescue footage showing the cleanup work of the apartment house, managed to capture rescue workers saving the life of a child who miraculously avoided being crushed by tons of debris. Unfortunately other victims of the air strike were not so lucky. So far 11 have died and 8 more are wounded. The regional administration of Donetsk has announced the injured child was receiving treatment in hospital.
The video (starting at 3:42) captured the details of the rescue of Bogdan, whose muddled cries were heard as hundreds of rescuers and civilians were looking for survivors of the tragedy.
The emergency crews kept on talking to the child, trapped in tight space underneath the debris, to provide a sense of safety, slipped in a flashlight through the cracks to calm the child, who struggled through the ordeal in a brave manner, sometimes issuing a contained cry for help.
Water was given to the child as the team worked against the clock to save his life. Residents meanwhile were trying to keep the kid calm, with a man, apparently his father repeatedly saying "Bogdan, calm down." As the rescue unfolded, the rescuers in the video were saying that the kid was trapped underneath a wooden plank covered by a cement block.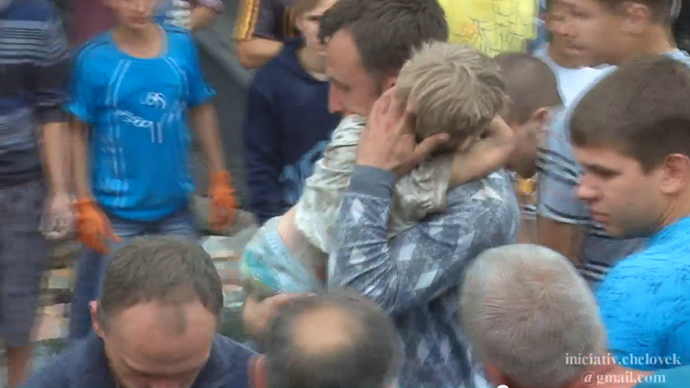 Using their bare hands and then shovels, the rescuers dug a pit to provide enough space for the child to maneuver, before using a crane to lift up the concrete block preventing the child's escape. The rescue then continued by hand, with debris being cleaned out from on top of the child's location, before safely freeing Bogdan from his rubble captivity.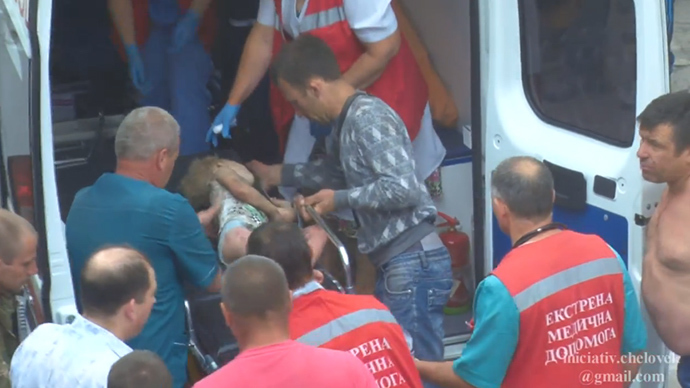 The house was destroyed after an aircraft – described by the Ukrainian authorities as 'unidentified' – fired four missiles at approximately 6:27 am Tuesday, when most of the citizens of Snezhnoe were fast asleep. One of the missiles hit the local tax administration building, which was empty at that early hour. The other three hit the five-story residential building.
You can share this story on social media: