Kiev aircraft fire missiles at apartment block in E. Ukraine, 11 dead
Kiev's Air Force fired three missiles to destroy a multifamily apartment building in the city of Snezhnoe, eastern Donetsk Region. At least eleven civilians have been pronounced dead as rescue teams cleared out debris of the collapsed building.
"At least 11 people have been killed, as of 17:00 local time. Eight have been wounded, including one child," the Donetsk regional administration said, adding that the all the wounded are receiving medical treatment.
Assault aircraft fired four missiles at approximately 6:27am, when most of the citizens of Snezhnoe were fast asleep. One of the missiles hit the local tax administration building, which was empty at that early hour. The other three hit a five-story residential building at the 14 Lenin Street, reports RIA Novosti.
Two sections of the long apartment building collapsed completely. Local residents and emergency response teams are manually clearing debris in search for survivors. Altogether 12 families lost their dwellings.
The outskirts of the city of Snezhnoe, only 20km from the Russian border, has become the battlefield of bloody clashes between the anti-government forces of the eastern regions of the country and Ukrainian army.
The commander of anti-government forces in the area, Igor Strelkov, reported artillery fighting taking place on the outskirts of Snezhnoe throughout Monday.
Fighting also continues in other areas of eastern Ukraine, particularly near the regional center of Lugansk, with a population of about 450,000. The Ukrainian army has been trying to capture the city for some time now, concentrating a large task force on it consisting of several thousand troops and up to 70 tanks.
So far Kiev's forces have failed to enter Lugansk, but constant shelling of living quarters claim the lives of civilians on a daily basis.
Lugansk Mayor Sergey Kravchenko reported that over the last three days 17 people died and 73 have been wounded in shelling, four of them children.
There has also been fighting between self-defense forces and National Guard unit occupying a village of Tarany, population of which, assured self-defense, has long left their houses because of the military actions in the area. Representative of the anti-government forces told RIA Novosti they fired 36 shells altogether, inflicting serious damage to personnel and vehicles of the National Guards.
At 8pm on Monday, Ukrainian troops launched a 'retaliation' strike with 11 Grad multiple rocket launchers, causing serious damage and fires to private houses in the village of Dmitrovka. There has been a report of multiple wounded and dead civilians in the village.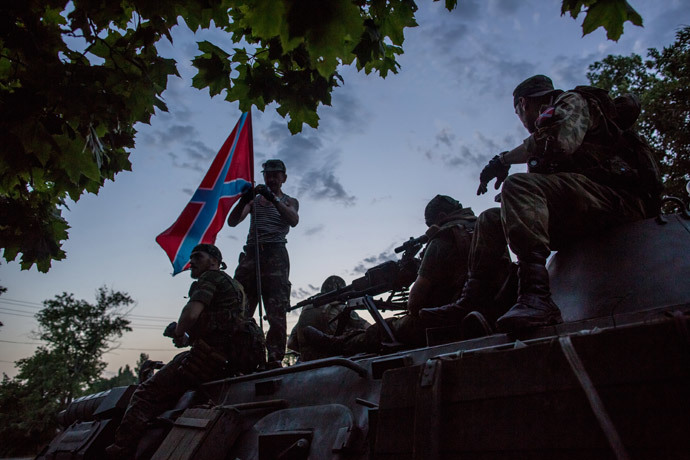 On Tuesday morning, after self-defense forces learnt the whereabouts of Ukrainian Grad launchers, which turned out to be next to small town of Amvrosievka, they launched an assault on the Ukrainian army positions.
Ukraine's National Security council confirmed nine dead and 25 wounded servicemen over the last two days, ITAR-TASS informed.
The last time Kiev's troops conductive punitive operation in the east of the country suffered serious losses was on July 11, when dozens of Ukraine's government troops were killed after local militia shelled pro-Kiev military forces with Grad rocket launchers.
A week ago groups of self-defense forces had to leave previously defended cities of Slavyansk and Kramatorsk.
Once Ukrainian troops entered the abandoned cities, National Guards began massive "loyalty checks" and arrests of able-bodied male local citizens.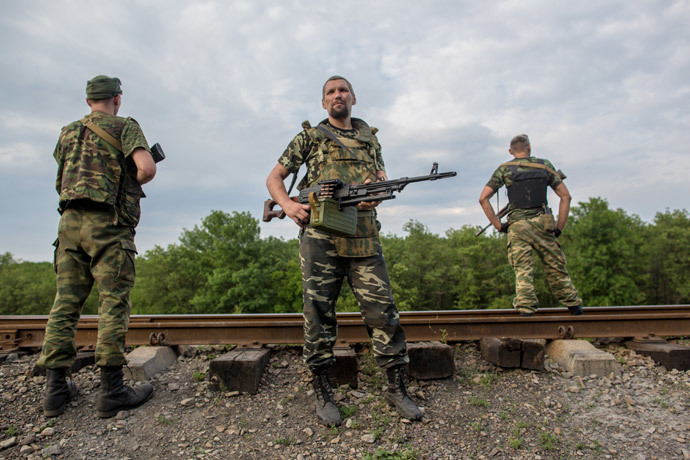 You can share this story on social media: