Merkel may leave Chancellor's post early to head EU – report
Published time: 14 Jul, 2014 12:19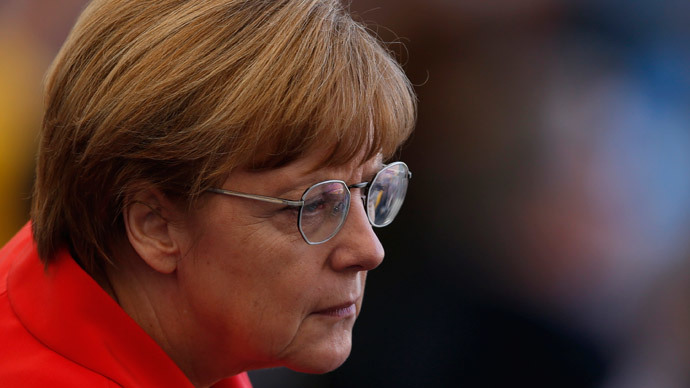 Chancellor Angela Merkel is ready to quit before the end of her term to chair the European Council, Der Spiegel reports. Merkel's government remains under unprecedented pressure due to the long-running scandal over US surveillance in Germany.
Ahead of Merkel's 60th birthday on July 17, Der Spiegel announced information that sounds strange to most Germans: that she wants to quit the chancellor's job before her term ends in 2017.
If Merkel were to resign early, she would become the first German leader since 1949 to leave office voluntarily before their term in office ends.
"She really is very tempted," the magazine quoted an unnamed member of Merkel's government team.
Chancellor Merkel is not going to leave office in a haphazard way, cherishing plans to take positions of either UN Secretary-General or President of the European Council, claimed Der Spiegel. Both positions will become available in 2017.
In a recent interview to Germany's ZDF TV channel, though, Chancellor Merkel said quite the opposite.
Merkel confirmed that she was ready to work right to the end of her term, and decide later what to do next.
Merkel also firmly denied she had any ambitions to become UN Secretary-General, saying: "That will certainly not happen."
After a Luxembourg newspaper speculated in May that Merkel was hopeful of succeeding Ban Ki-moon as UN Secretary-General, Chancellor's spokesman denied such allegations.
Overall, during the interview Merkel remained very reserved about her future plans.
A political big hitter, Angela Merkel could change the role of any organization she will head, so becoming President of the European Council could eventually make her the head of the EU, UK newspaper The Telegraph argues.
After nearly nine years in office, Merkel remains popular among Germans, by 2017 voters could be jaded and be seeking a change.
Unlike legendary chancellors of modern German history, such as Konrad Adenauer or Helmut Kohl, who ultimately were ousted from office, Angela Merkel may plan to withdraw from her post unbeaten.
"Just about everyone around her, in her party or the cabinet, is convinced she will voluntarily leave office," assured Der Spiegel.
Though the German election of 2017 is really far ahead, it looks like Merkel wants to make choices on her own and has a plan.
Through last year's election Merkel was not questioning serving a full term in office while her spokesman and party colleagues denied all speculation about Chancellor leaving office early.
Later in 2013, when Merkel appointed Ursula von der Leyen Germany's Defense Minister, the first-ever woman in charge of the Bundeswehr, that appointment sparked another wave of talks about this politician eventually succeeding Merkel in Chancellor's cabinet.
Today, Chancellor Merkel is indisputably the most powerful politician in the EU – and definitely plans to remain in this guise for the years to come.