Merkel offers Cameron little hope of 'fundamental' EU reform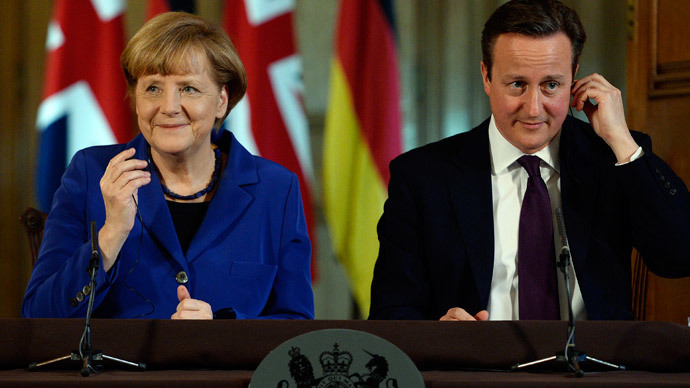 German Chancellor Angela Merkel said on a visit to London she wants the UK to remain a "strong voice in the EU" and praised its close partnership with Germany, but stopped short of offering specific reform to the island nation's EU membership.
In a one-day visit, Merkel addressed a joint session of the UK parliament, held a joint press conference with PM David Cameron, met with other party leaders and had tea with the queen in Buckingham Palace. The trip comes as amid genuine fears in Berlin that Britain is heading for an exit from the European Union in a referendum tentatively planned for 2017.
Merkel's high-profile trip – although not an official state visit – has been compared to the address to the UK parliament by the late South African President Nelson Mandela, the Soviet Union's last leader, Mikhail Gorbachev, and US President Roland Reagan. In contrast, French President Francois Hollande was given a low-key reception last month at an airbase in Cameron's parliamentary constituency and then had a short lunch with the PM in a nearby pub.
After addressing a combined session of the House of Lords and the House of Commons at midday, Merkel held a joint press conference with Cameron before holding separate meetings with Ed Miliband, the leader of the opposition Labour Party, and Nick Clegg, the Deputy Prime Minister and leader of the Liberal Democrats. Both Miliband and Clegg are openly pro-European, while many in Cameron's Conservative Party favor withdrawal from the EU.
If he wins the 2015 general election, Cameron has said that he will try and renegotiate Britain's EU membership and then hold and in-or-out referendum before the end of 2017.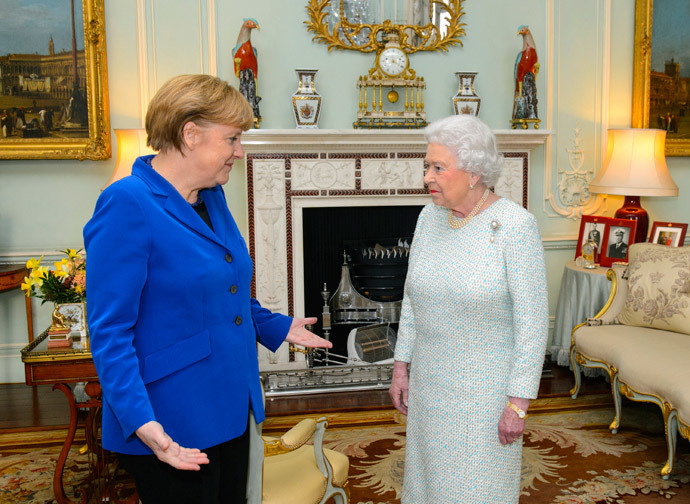 Although Cameron has not spelled out exactly what reforms he wants from the EU, he has previously spoken of the need to curb freedom of movement for poorer new EU member states such as Romania, a clampdown on so-called EU "welfare shopping," a reduction of red tape and an improvement in competitiveness.
Cameron has staked a good deal of hope on Merkel, who has hinted that if he puts forward a proposal to reform the EU as a whole, then she will offer some help.
But those hoping for "fundamental reform… are in for a disappointment," Merkel said.
"Some expect my speech to pave the way for a fundamental reform of the European architecture which will satisfy all kinds of alleged or actual British wishes. I am afraid they are in for a disappointment," Merkel said in English.
She added that those that think Germany and Europe will pay almost any price to keep Britain in will also have their hopes "dashed."
Switching to German, Merkel spoke about the British-German relationship with the broader EU.
She began with a quotation from the former president of West Germany, Richard Von Weizsäcker, who addressed the British parliament in July 1986, saying: "The UK has no need to prove its commitment to Europe".
Merkel stressed the importance that Britain and Germany should work together in areas such as defense and security and to bring down barriers to free trade. The EU benefits from the UK's open approach to trade and free markets, Merkel said.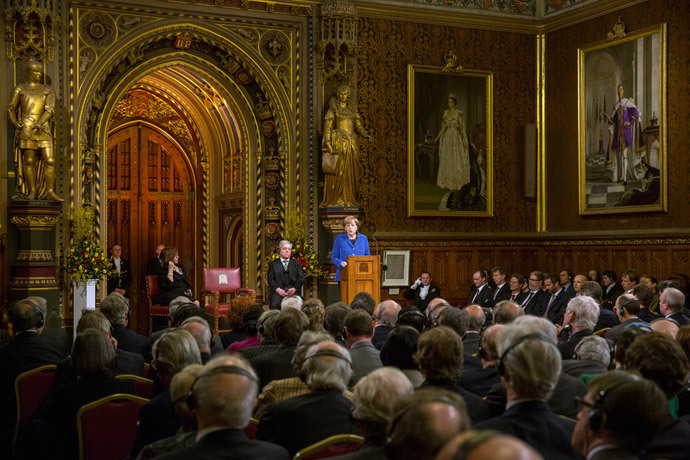 The chancellor did hint that EU reform is necessary as the EU must "adapt to the times" and that "red tape at the EU level must be cut out."
She added: "If we are serious about change, we will find the necessary legal instruments to achieve these goals," in what was her clearest hint that she is prepared to push for some treaty change.
But she was clear that if Britain wants to reform the EU, it must be in it.
"We need a strong United Kingdom with a strong voice inside the European Union. If we have that, we will be able to make the necessary changes for the benefit of all," she said.
She indicated that she may back Cameron's wish to clamp down on abuse of welfare benefits and the EU's free movement rules, as well as his desire to rein in the powerful European Commission, but that Britain's voice would be heard along with everyone else's in the EU.
"All of the member states will then have to submit all of their policies on Europe, [to see] if these policies contribute to bolstering the euro's economic strength," she said.
At a joint press conference shortly after Merkel's speech, Cameron said that he has a strong agenda for EU reform focused on promoting growth.
When asked by a journalist if he should accept that he won't get the reforms he wants, Cameron said the changes he wants are both deliverable and possible.
You can share this story on social media: