Swimsuits for snow boots: Freak summer snow & hail hit Siberia, Urals (PHOTOS, VIDEO)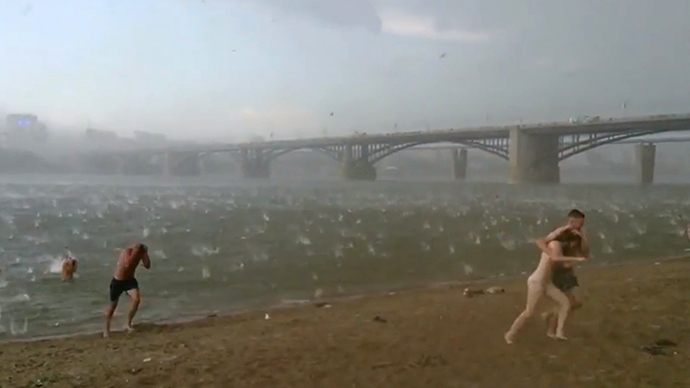 Snowdrifts piled up on the roads of Russia's Ural region on Saturday as an abnormal summer snowstorm hit the region, bringing the area into the spotlight once again after last year's meteorite fall. Siberia also witnessed a downpour of giant hailstones.
Residents of the cities of Chelyabinsk and Ekaterinburg, located in Russia's Urals, were taken aback when it suddenly started snowing in the middle of summer on Saturday. Photos and videos quickly emerged on social networks showing snow-covered green grass in the middle of July.
На Южном Урале сегодня выпал #снегpic.twitter.com/fpQshY2dTK

— Алла Шумихина (@gotskaya) July 12, 2014
Local media reported snowdrifts along roads, adding that the temperature dropped from over 20 degrees Celsius (68 degrees Fahrenheit) to almost zero on Saturday.

"Chelyabinsk weather is that harsh..." a user on social network Vkontakte sarcastically wrote while commenting on a video depicting the heavy snowstorm.
The local emergencies service issued a warning, recommending residents to be careful and to refrain from using their cars.

Chelyabinsk entered the international spotlight last year when a meteorite exploded in the sky over the city with the strength of 40 Hiroshima bombs, causing extensive property damage.
Sudden hail in Novosibirsk
Also on Saturday, the eastern Siberian city of Novosibirsk witnessed an unusual downpour of hailstones. Local media reported some to be the size of golf balls or hen eggs.

A video emerged on YouTube showing a beach on the banks of the Ob River. At first, the footage shows the usual summer scenes of beachgoers enjoying themselves while swimming, sunbathing, and playing games.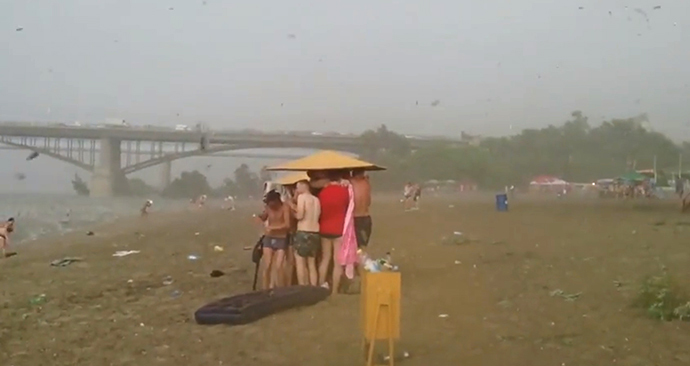 A few seconds later, the weather suddenly changes – strong winds start blowing and tearing of branches off nearby trees. The sky goes dark and freakishly large balls of hail start shooting from the sky.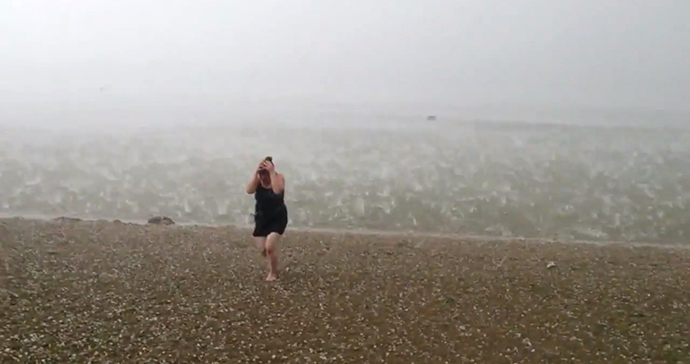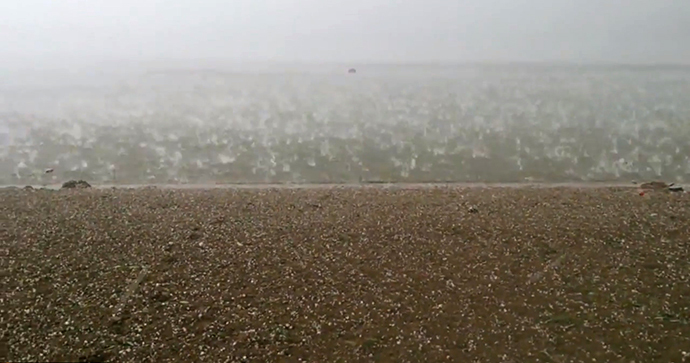 The beach was covered with a white sheet of hail just one minute after the storm started. The footage shows people running and covering their heads in search for shelter as the scene unfolds.
A scared female voice can be heard saying "If we die, I love you." The hail was so dense that the other bank of the river was not visible at the time of the storm.

The hail was then replaced by heavy rain, flooding nearby streets and parking areas. Local media reported that the wind knocked down several trees and hail broke windows in some apartment blocks.
весело у нас тут #новосибирск #градpic.twitter.com/RJAmNLBeqk

— БРОВИ ХИМЧАНА (@A_chan_96) July 12, 2014
A storm warning was issued in Novosibirsk for Sunday and Monday. No casualties have yet been reported.

Siberia is known for its freezing temperatures in winter, but in some parts of the vast eastern region – which stretches from the Ural Mountains to the Pacific and Arctic – the summer temperatures are similar to the Mediterranean.
You can share this story on social media: