6.8 quake strikes off Fukushima coast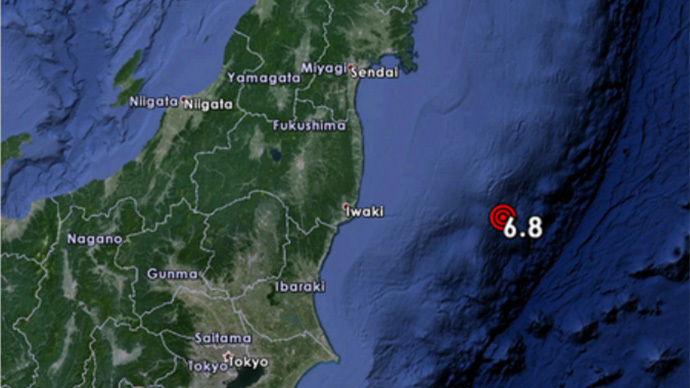 A 6.8 magnitude earthquake hit off the coast of Japan, with its epicenter located some 129 kilometers from the city of Namie in Fukushima prefecture, US Geological Survey reported.
The quake was centered at a depth of about 10km, according to the Japan Meteorological Agency (JMA).
Tsunami advisories were issued for Fukushima prefecture, as well as for nearby Iwate and Miyagi prefectures, but were lifted two hours later.
The quake triggered a small tsunami of up to 20 cm at Ishinomaki in Miyagi prefecture, and other locations in northeast Japan. No major damage was reported.
There were no reports of abnormalities at Fukushima-1 nuclear plant following the quake, TEPCO reported.
Three people were slightly injured as a result of the quake, local broadcaster NHK reported. Japanese officials said that about 700 people living in the coastal prefectures of Iwate, Miyagi and Fukushima decided to evacuate. After the tsunami advisories were lifted, the residents returned to their homes.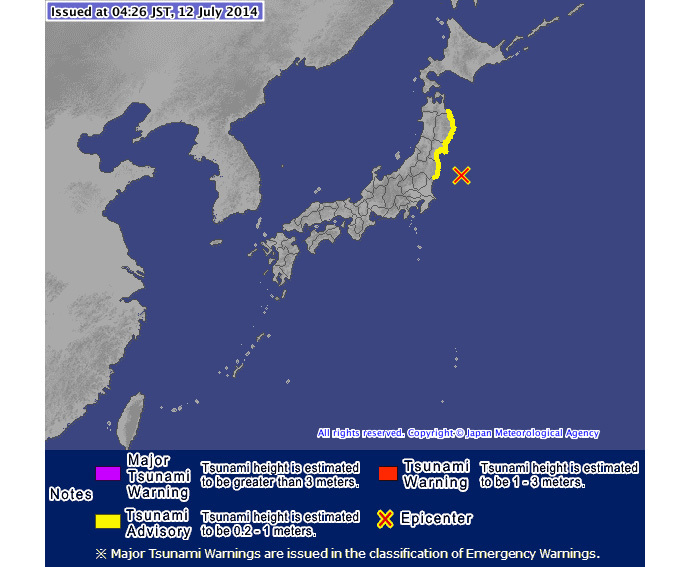 The city of Namie is located in the southern part of the Hamadori coastal region of Fukushima prefecture.
The epicenter was also located 131km away from the city of Iwaki.
A marine threat was also issued, as strong currents were expected to continue. JMA ordered residents to "get out of the water and leave the coast immediately."
"Do not get in the sea or approach coasts until the advisory is cleared," the agency said in a statement.
Though there may be slight sea-level change in coastal regions, no tsunami damage is expected, JMA added.
The earthquake comes days after another part of Japan, the island of Okinawa, was hit by powerful Typhoon Neoguri. Authorities had to ask half a million residents to evacuate.

Fukushima prefecture was among several northeastern regions of Japan severely devastated by an 8.9 magnitude earthquake and a subsequent tsunami in March 2011. The disaster resulted in over 19,000 of deaths, according to the World Nuclear Association, and led to a meltdown of three nuclear reactors at the Fukushima Daiichi nuclear plant, the worst nuclear catastrophe since the 1986 Chernobyl disaster.

The post-tsunami cleanup is expected to take decades and to cost more than $50 billion.
You can share this story on social media: