Fukushima diverts groundwater from radioactive reactor into Pacific Ocean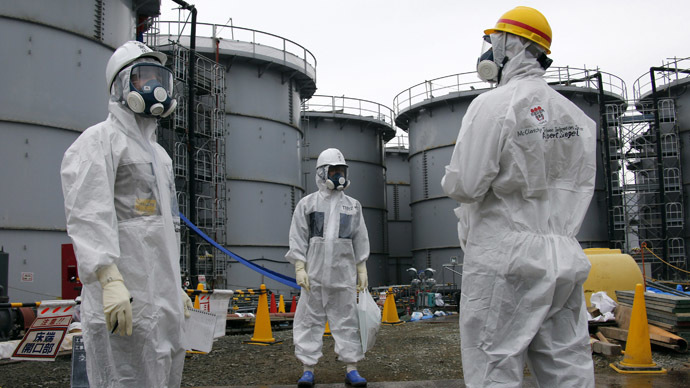 TEPCO, operators of the stricken Fukushima Daichi nuclear plant, has rerouted water flows around the plant straight into the ocean, to prevent it from becoming contaminated after seeping inside the plant.
On Wednesday morning 560 tons of water that had been collected from 12 wells around the plant back in April were flushed into the ocean over two hours.

TEPCO said that the discharge was cleaner than the World Health Organization standard for drinking water, and posed no risk of radioactive contamination.

The go-ahead was given in March after months of negotiations with district authorities, and local fishermen, who have imposed a voluntary ban on fishing in nearby waters, to preserve their reputation.

"It was an agonizing decision for fishermen in the area to endorse the plan. We will have the industry ministry strictly instruct TEPCO to abide by its rules on contamination levels of water to be released," said Chief Cabinet Secretary Yoshihide Suga.
The seemingly unwinnable battle against persistent water contamination has become the key issue in the clear-up following the reactor meltdown that occurred after the earthquake and tsunami in March 2011.
Around 400 tons of ground and rain water flow from uphill areas surrounding the plant, and mix with highly-contaminated liquids near the three damaged reactors.
Some 350,000 tons of water have accumulated in expensive and hard-to-maintain water tanks beside the plant, with new ones having to be continuously constructed. A purification system capable of cleaning up to 750 tons of water a day, introduced a year ago, has suffered constant malfunctions, and is currently in shutdown.

The new bypass system takes a different – preventative – approach. TEPCO says that it may eventually be able to divert up to 100 tons of water a day away from the plant – reducing the inflow by a quarter, and necessitating weekly drainage into the ocean.
Another 790 tons of already stored clean water are expected to be discharged into the Pacific Ocean in the near future.
TEPCO – which had to be effectively nationalized following the disaster of 2011 – is spending about $500 million annually on the clean-up at the plant itself, while the overall cost of removing the consequences of the accident are predicted to easily top $50 billion in the coming decades.
You can share this story on social media: