Gaza tragedy: Civilians are collateral damage in Hamas and IDF fighting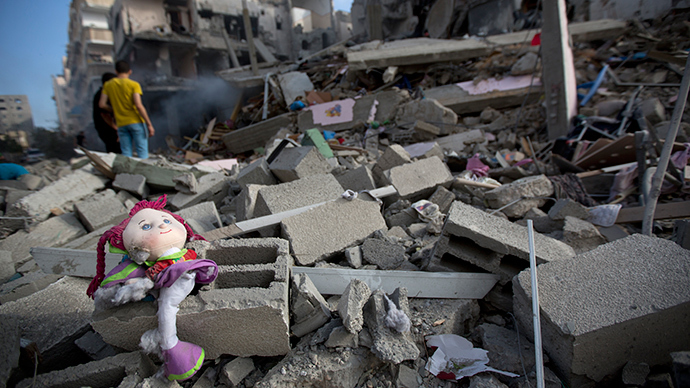 Four-year-old Shaima al-Masri is lying stricken on her bed in Gaza's main hospital. She sustained an abdominal injury in a strike when she and her family were returning home from her uncle.
Israel steps up military offensive in Gaza LIVE UPDATES
She is one of the latest victims of Israeli airstrikes, which have claimed more than 100 lives including Shaima's mother and her brother.
"The girl went to visit her sister with her parents. On the road they came under missile fire. When she tried to avoid one, she was hit by a second," a sobbing Samah al-Masri, the child's aunt, told RT contributor Harry Fear.
Shaima's mother and brother died right after the attack, while she and her sister were taken to hospital, where her sister died.
It's still not clear if the girl will live as her injury is rather serious. Shaima's aunt is now praying for God to help the child to recover.
"The girl is still under God's care. Nobody knows if she is going to make it," said Samah al-Masri.
Gaza healthcare services on brink of collapse as death toll climbs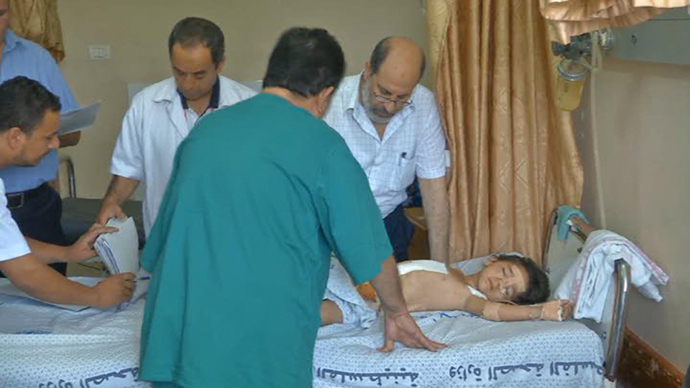 Another Gaza resident told Harry Fear that the strikes start out of nowhere.
"We were sitting by the entrance when the first missile hit the house. The second one soon followed," says Abed Ibrahim, a Gaza resident, "We carried the sleeping children out and ran away. The children began screaming with fear."
Fierce rocket fire exchange is continuing between Israeli armed forces and Hamas.
#Gaza is indeed a very scary place to be right now. #GazaUnderAttack (My photo, taken just over an hour ago.) pic.twitter.com/BmdzPLEZNl

— Harry Fear (@harryfear) July 9, 2014
According to DCI-Palestine (Defence for Children International Palestine), 18 children have so far been killed in the assaults and dozens more injured.
UPDATE: @DCIPalestine confirms 18 kids killed in #Israeli assault on #Gaza, names & ages here http://t.co/4KVBvssuIlpic.twitter.com/oz1JF2ShA8

— Defence for Children (@DCIPalestine) July 10, 2014
The World Health Organization (WHO) said that Palestinian healthcare services are unable to handle the wave of people requiring medical attention.
"A hospital, three clinics and a water desalinization center in a refugee camp have also been damaged. More air strikes and missile attacks are likely," the WHO said in a statement.
Gaza civilians are not the target – Israel
Israel sent 360 strikes, while Hamas fired 570, according to the IDF. There haven't been any casualties in Israel, the country's officials have only reported two injured soldiers.
Israel says that its Operation Protective Edge does not target Gaza civilians.
"This is not an operation in any capacity against the people of Gaza. This is an operation against Hamas, against an organization that purposefully and specifically uses the civilian population of Gaza as human shields," Libi Vice, spokeswoman for the Israel Defense Forces (IFD) told RT.
Vice said the IDF are taking various precautions to protect the civilian population of Gaza.
100,000 Palestinians near #Gaza-#Israel border reportedly told by #IDF to evacuate their homes: Israeli sources.

— Harry Fear (@harryfear) July 11, 2014
"We made unbounded efforts to protect the civilian population in the Gaza Strip before any attack against Hamas. We take measures that no other military or no other country takes in the world, which include text messages to people in civil areas, phone calls to their homes."
The aim of the mission is "to restore quiet to the people living in Israel to teach Hamas."
"There is a very very high price to pay to committing acts of terror," she added. "Any questions regarding the civilian casualties in the Gaza Strip should be directed to the leadership in Gaza that actively and purposefully puts its own civilians in danger."
Declassified aerial photo: A weapons cache in Gaza, surrounded by civilian houses. We targeted the site. pic.twitter.com/e1Zqm41d7j

— IDF (@IDFSpokesperson) July 11, 2014
You can share this story on social media: