Excommunication breakdown: Religious parades banned over mafia boss holy march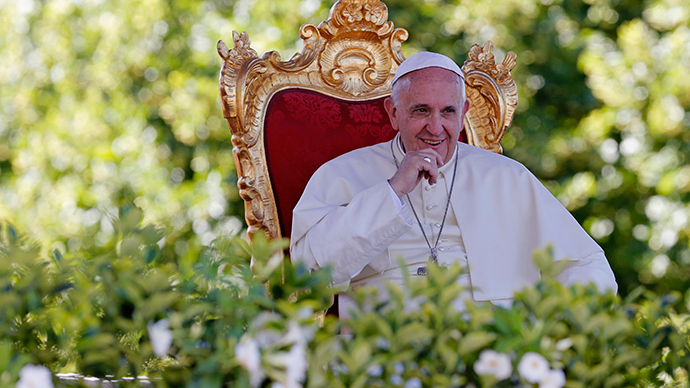 An Italian bishop suspended all religious processions in his diocese in response to a recent religious parade in which a statue of Virgin Mary was carried to honor a local Mafia boss, despite the Pope excommunicating Mafiosi shortly beforehand.
Italians defy Pope, take church procession to mafia boss' house
The 'holy' fuss was sparked on July, 2 when a church procession in the southern Italian town of Oppido Mamertina, in the Calabria region, diverted from its normal route to pay tribute to a local Mafioso under house arrest.
Churchgoers carrying the statue of the Virgin Mary, reportedly made it bend down to "bow" in front of the house of a local 'godfather', Giuseppe Mazzagatti. The 82-year-old mobster is currently serving a life sentence at home for murder.
Tiny Oppido Mamertina, with a population of only 5,000 people, is at the heart of a grand clan called 'Ndrangheta, which Mazzagatti heads.
Among the worshipers were the city's mayor, clergy and dozens of Oppido Mamertina families.
Francesco Milito, the bishop of Oppido-Palmi Diocese in southern Italy, immediately condemned the unholy procession, promising to take "measures" against those who initiated taking the church procession to the Mafioso's doorstep, thus challenging the authority of the Pope.
Milito decided to ban all religious parade in Calabria for an indefinite period of time, reported Italian La Repubblica newspaper.
"This is a gesture of caution, an invitation to the reflection and silence that we need right now. This is an act of love for our church," Milito told local clergy, AFP reported.
The sacred parade also failed to amuse the head of the Italian episcopal conference, Nunzio Galantino.
"Whoever made the Madonna bow has committed a double sin. It twisted the sense of the procession. It's absurd," he told Corriere della Sera earlier this week.
'Ndrangheta activity is centered in Calabria. The group became the most powerful syndicate of Italy in the late 1990s and early 2000s. Although tied to the Sicilian Mafia, the 'Ndrangheta crime syndicate operates independently from the Sicilians. It is believed that drug trafficking, extortion and money-laundering activities of the organization equate to least 3 percent of Italy's GDP, with revenue of 53 billion euro annually.
International links of the organization particularly with Latin American countries helped the 'Ndrangheta dominate the global cocaine trade.
Challenge to Pope Francis?
The Madonna procession was an apparent gesture of defiance to Pope Francis, who recently condemned 'Ndrangheta members for their "adoration of evil."
The Pontiff said the "those who in their lives follow this path of evil, as Mafiosi do, are not in communion with God" and they "are excommunicated."
"Repent! There is no time to avoid ending up in hell, which is what awaits you if you do not change course," he stated.
Since then about 200 prisoners from the Calabrian Mafia have been boycotting mass. They explained that since they were excommunicated it made no sense for them to attend anymore, Giancarlo Bregantini, a bishop from the Archdiocese of Campobasso-Boiano, told Vatican Radio.
Italy has a strong tradition of such honor parades in front of the houses of local Mafia dons, who often finance these very parades. The practice is frequently criticized by Catholic authorities.
You can share this story on social media: