Italians defy Pope, take church procession to mafia boss' house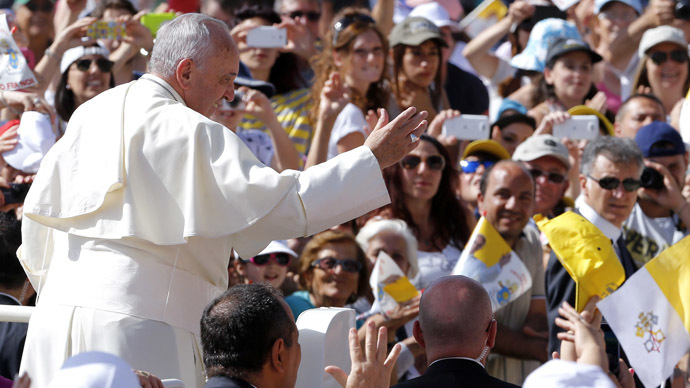 The Vatican might have denounced the mafia, but common Italians seem unconvinced. A church procession in an Italian town diverted from its normal route to pay tribute to a local Mafioso under house arrest.
Pope Francis 'excommunicates' Italian mafia

What happened was "deplorable and disgusting," Interior Minister Angelino Alfano said on Sunday. The official praised the three policemen who refused to take part in last week's scandalous procession in the Calabrian town of Oppido Mamertina, considered a stronghold of the 'Ndrangheta crime syndicate.

Among those who believed it was wright to honor the 82-year-old mobster, currently serving a life sentence at home for murder, were the city's mayor, clergy and dozens of Oppido Mamertina families.
The tribute to the mafia patriarch came just days after Pope Francis condemned 'Ndrangheta members for their "adoration of evil."

"Those who in their lives follow this path of evil, as Mafiosi do, are not in communion with God. They are excommunicated," Pope Francis said, June 22.

Oppido Mamertino's bishop, Monsignor Francesco Milito, promised to take "measures" against those who initiated taking church procession to the Mafioso's doorstep, thus challenging the authority of the Pope.

The Pope's words seem to have estranged at least some of the mafia members from church. Around 200 inmates in the maximum-security section of Larino Prison told their chaplain they would boycott mass, because they had been "excommunicated", Monsignor Giancarlo Bregantini told Vatican Radio on Sunday.
You can share this story on social media: