Shocking: ISIS militants smash Iraq tombstones with sledgehammers (VIDEO)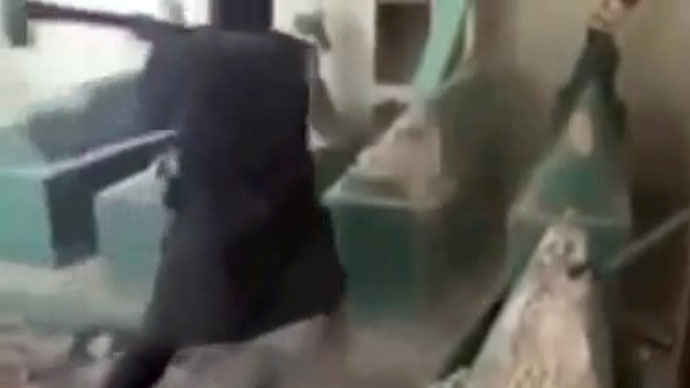 ISIS militants in Iraq have been filmed ruthlessly smashing centuries-old graves to pieces in the city of Mosul. The shocking video footage was posted online this week.
Iraq loses control of chemical weapons depot to ISIS militants
It shows rebels in balaclavas and black coats destroying tombs with sledgehammers, amidst swirls of dust and piles of rocks. It is unknown when the video was taken.
Iraqi authorities, according to the Daily Mail, have confirmed that one of the smashed graves belonged to the Prophet Jonah (Younis in Arabic), who is revered by Muslims and Christians alike and is best known as the main character of the Book of Jonah.
According to the famous story of prophet, he was swallowed by a giant fish. He is regarded as a saint by a number of Christian denominations.
"Elements of ISIS [have] controlled the mosque of the Prophet Younis in Mosul since they invaded the city," Ninevah official Zuhair Al-Chalabi was cited as saying by IraqiNews.com.
Along with Prophet Jonah's tomb, ISIS also reportedly destroyed the shrine of the prophet Shayth (Seth).
Sunni radicals overran Mosul last month and torched 11 Christian churches, monasteries and mosques in and around the historic northern Iraqi city.
RELATED: ISIS jihadists demolish mosques, shrines in northern Iraq (PHOTOS)
Mosul was captured on June 10 when Sunni militants drove the Iraqi army out of the city.
Thousands of civilians fled as jihadists took control of the city in their battle against the Shiite majority Baghdad government led by Prime Minister Nuri al-Maliki.
On June 30, ISIS jihadists declared the captured territories from Iraq's Diyala province to Syria's Aleppo a "caliphate" and changed the group's name to 'The Islamic State".
The Sunni radical leader, Abu Bakr al-Baghdadi, has been calling on Muslims to come to Iraq and Syria and join the battle to create the "caliphate."
You can share this story on social media: