Isis mobile wallet rebrands to avoid confusion with radical militant group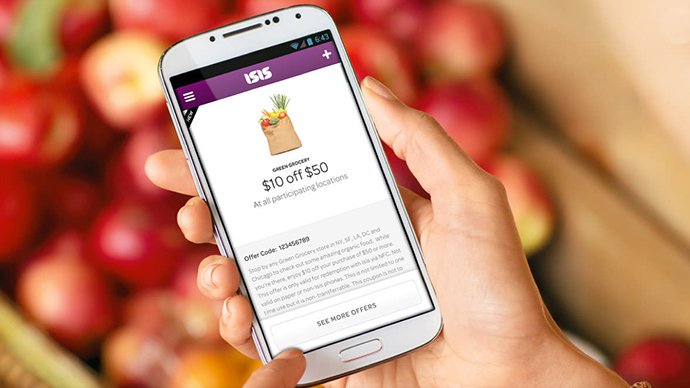 ISIS, the Islamic militant group rampaging through Iraq and Syria, has been hitting the headlines recently. However, Isis is also the name for a mobile wallet which has announced a rebranding since it doesn't want to be associated with terrorists.
The Isis mobile wallet is a joint venture between AT&T, T-Mobile and Verizon in the mobile payment space. The app, which works on Android and iPhone, was created in 2010
When choosing the company name four years ago, the heads of the group were looking for a brand that would "help consumers find a safer and better way to shop, pay and save,"said Isis CEO Michael Abbott in a statement released on the company's official website.
"We wanted a name that brought to life our company and our values. Above all, we wanted a brand that captured the simplicity of our mobile wallet experience. We chose Isis," he said because of its association with the Egyptian goddess of nature and magic.
However, recently the company has noticed that they were not the only people using the name of the ancient goddess. The radical militant group ISIS – Islamic State of Iraq and Syria – which is now ravaging cities across Iraq and Syria has become notorious in the world.
Abbot added that the Isis mobile wallet company doesn't want to be "linked to sectarian violence against civilians and government forces in Iraq and Syria."
"We have no interest in sharing a name with a group whose name has become synonymous with violence and our hearts go out to those who are suffering. As a company, we have made the decision to rebrand," said Michael Abbott, Isis CEO.
The new name has not been announced yet, but Abbott said that the company is "working on a new brand."
"Changing a brand is never easy, but we know this is the right decision – for our company, our partners and our customers," he said.
All you need to know about ISIS and what is happening in Iraq
The mobile wallet is not the only company that bears the same name as the Islamic militants. A British technology transfer company owned by the University of Oxford is also called Isis. ISIS is also the acronym for the Institute for Science and International Security, a think tank which informs the public about "science and policy issues affecting international security."
However, the decision of the mobile wallet to change their name comes after the ISIS militants "rebranded," too! On June 29, ISIS jihadists declared the captured territories from Iraq's Diyala province to Syria's Aleppo a new Islamic State - a 'caliphate.' They removed 'Iraq and the Levant' from their name.
You can share this story on social media: