Yellow card for selfie: MLS striker punished after celebrating goal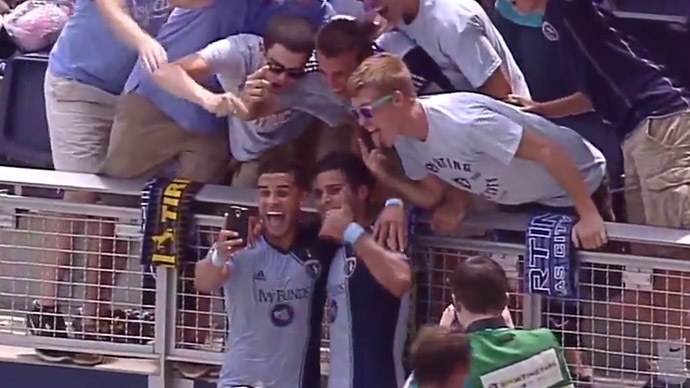 Compared to US goalkeeper Tim Howard, Dom Dwyer may not be a household name, but that could change now. The English-born US player stunned a Major Soccer League crowd by taking a selfie after scoring a goal, but got a yellow card for his troubles.
Dwyer, a forward for Sporting Kansas City, latched on to a defensive mistake by the Chicago Fire, before providing a cool finish and slotting the ball into the net. However, the player ran toward a photographer, grabbed his mobile phone and proceeded to take a selfie in front of the crowd, after putting his side 1-0 up.
Sadly, the referee person was not as impressed with Dwyer's sense of fun. Alan Kelly promptly brandished a yellow card in the striker's direction. The official in charge of the MLS match, which finished 1-1, decided to book the player for over-celebrating.
This is @Ddwyer14's selfie on the SKC snapchat story. Legendary stuff pic.twitter.com/BEXzTQOog0

— Nick Ross (@ChoochRoss) July 7, 2014
Footballers can also be shown a yellow card for taking their shirts off after scoring, or trying to incite the crowd while celebrating.
This is not the first in-game selfie by a footballer. Earlier this year, in the UK, Scunthorpe goalkeeper Sam Slocombe was so bored watching his side whip Portsmouth 5-0 that he posed for a selfie with a couple of fans.
Brilliant! pic.twitter.com/CPOO209FpX

— The SPORT Bible (@TSBible) February 23, 2014